Fantasy Cricket Tips
QUV vs VVV Dream11 Prediction Today Match – FanCode ECS T10 Capelle – Live Score Team News Top Picks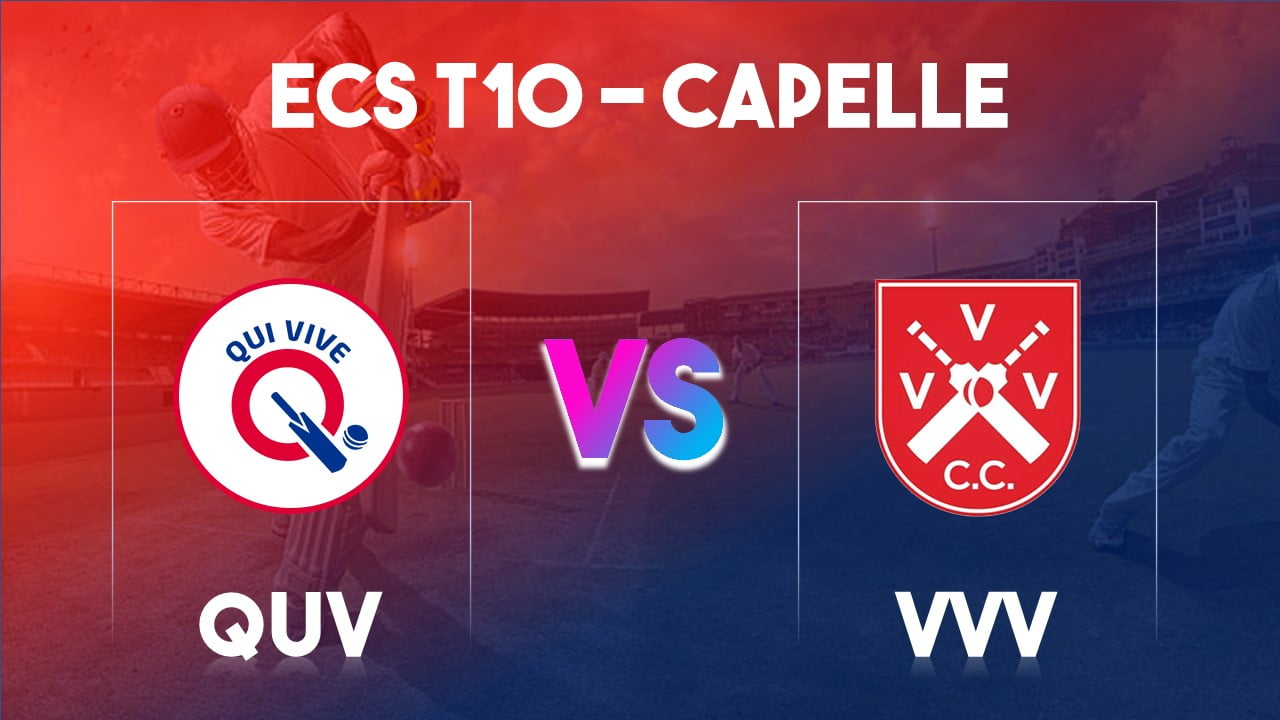 QUV vs VVV Dream11 Prediction: Qui Vive will take on Veni Vedi Vici in the 2nd and 4th match of ECS T10 Capelle. Both teams are making their debut in the tournament today.
However, Qui Vive will already a play match against Sparta Cricket 1888 before this game and will have an upper hand over the opponent as they will be well aware of the pitch behavior. Their performance in the tournament will depend a lot on the performance of today.
On the other hand, this will be the first game for Veni Vedi Vici in the tournament. They are a strong team in all aspects. If they start well today, they might finish on the top of the table at the end. Let's take a look at QUV vs VVV Dream11 Match Prediction for this ECS T10 Capelle fixture.
QUV vs VVV Dream11 Today Match Prediction Details
FanCode ECS T10 Capelle match 2 and 4
Qui Vive vs Veni Vedi Vici
Date: Monday, 30 August 2021
Time: 2:30 PM
Venue: Sportpark Bermweg, Capelle
?? Day 1 ? PREVIEWS ? https://t.co/aMsdsYkwC1 @FanCode ECS Netherlands Capelle ?? @Dream11 @KNCBcricket

— European Cricket (@EuropeanCricket) August 29, 2021
Follow the Live Cricket Scores on the Sports Tattoo
Qui Vive vs Veni Vedi Vici match will be streamed online on the Dream11 Sponsored FanCode app. Viewers can also watch live scores on the Sports Tattoo.
QUV vs VVV Dream11 Prediction Today – Team News
Qui Vive Squad (QUV):
Kumaran Thirumalai, Palas Nuwal, Venkatachalam Balakrishnan, Shahzad Khan, Sabir Shaikh, Balasubramaniam Gurumurthy, Amit Kumar, Maninder Singh, Vivek Babu Varnam, Imran Shaij, Naveen Damodaran, Puneet Bindlish, Murad Jiwa, Ashish Arora.
Veni Vedi Vici Squad (VVV):
Rashid Ahmad, Heshan Wijesinghe, Zishan Akram, Shagharai Sefat, Wajdan Alim, Noman Meraj, Areeb Shoaib, Mohsin Ghaznavi, Aziz Mohammad, Arsal Rehman, Saber Zakhil, Adnan Razzaq, Sheraz Khan, Faisal Mehmood, Suleiman Ahmad, Ali Rashid, Ashir Abid, Hadisullah Tarakhel, Sheraz Sheikh, Raza Khan, Nikhil Gangta, Khalid Ahmadi, Murid Ekrami, Rahil Ahmed, Fahim Bhatti, Omid Rahimi, Shahrukh Akhtar, Mahesh Hans
QUV Probable11:
Balasubramaniam Gurumurthy, Puneet Bindlish, Shahzad Khan, Vivek Babu Varnam, Ajay Kotnala, Puneet Bindlish, Naveen Damodaran, Sabir Shaikh, Venkatachalam Balakrishnan, Ashish Arora, Naveen Damodaran.
VVV Probable 11:
Adnan Razzaq, Fahim Bhatti, Omid Rahimi, Hadisullah Tarakhel, Murid Ekrami, , Sheraz Sheikh, Khalid Ahmadi, Faisal Mehmood, Rahil Ahmed, Aziz Mohammad, Saber Zakhil
QUV vs VVV Dream11 Top Picks & Key Players
Qui Vive-
Puneet Bindlish
Sabir Shaikh
Ajay Kotnala
Ashish Arora
Naveen Damodaran
Veni Vedi Vici-
Zishan Akram
Aziz Mohammad
Khali Ahmadi
Fahim Bhatti
Saber Zakhil
QUV vs VVV who will win today match?
As per our QUV vs VVV Today Match Prediction, Veni Vedi Vici is expected to win both games. However, the results can be different as both teams are equally good.
QUV vs VVV Dream11 Team for Today
Wicketkeeper:
1) N Balaj Damodaran
Batsman:
2) B Aziz Mohammad
3) S Zakhil
4) Z Javaid Akram
5) A Arora
All-rounder:
6) K Ahmadi
7) S Sefat
8) P Kumar Bindlish
Bowler:
9) F Bhatti
10) A Kumar Kotnala
11) B Gurumurthy
Dream11 team shown here is only a match before the team and the original team can be different after the release of lineups.