Fantasy Cricket Tips
VIK vs FBL Dream11 Prediction Today – FanCode ECS T10 Dresden – Live Score Team News Top Picks, 18 August 2021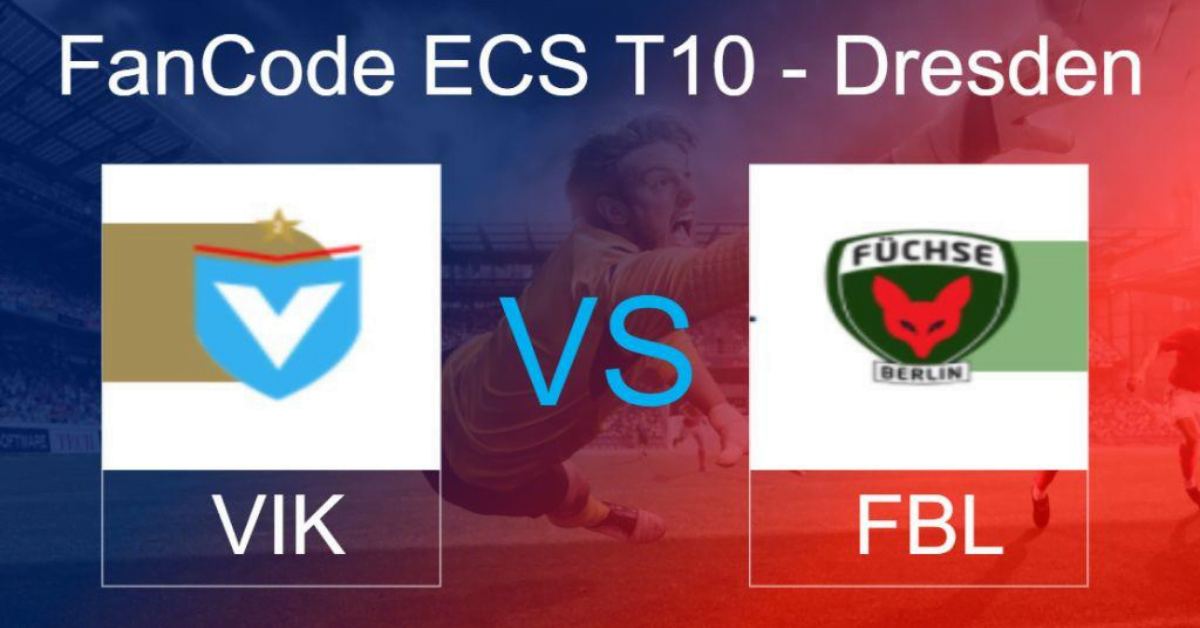 VIK vs FBL Dream11
FC Victoria 89 will continue their campaign in the ECS T10 Dresden as they meet Fuchse Berlin Lions in the next two matches. FC Victoria 89 had a mixed start to the campaign as they registered one win and one loss in the first two matches.
However, they will be happy with the results as their win came against the strong outfit of BSC Rehberge 1945. Fuchse Berlin, on the other hand, are struggling to get going so far.
They have managed only a single win and three losses in 4 matches they have played. They must get back to the winning ways if they want to stay relevant in the race to the quarterfinals. Let's take a look at VIK vs FBL Dream11 Match Prediction for this ECS T10 Dresden fixture.
VIK vs FBL Dream11 Today Match Prediction Details
Fancode ECS T10 Dresden – Match 9 & 10
FC Viktoria 89 vs Fuchse Berlin Lions
Date: Wednesday, 18 August 2021
Time: 12:30 PM & 2:30 PM
Venue: Rugby Cricket Dresden eV, Dresden
Follow the Live Cricket Scores on the Sports Tattoo
VIK vs FBL Live Streaming: Fancode
Also Read: Cristiano Ronaldo addresses Real Madrid transfer Rumours: Makes Big revelation about his future!
VIK vs FBL Dream11 Prediction Today – Team News
FC Viktoria 89 Squad:
Akhil Garje, Waleed Aslam, Zahid Mahmood, Munir Hussain, Raza Amar, Juno Varghese, Usman Hadi, Tanvir Butt, Sonam Ravi, Ehsan Latif, Arjun Nagathankandy, Harsha Busireddy, Asad Hussain, Manu Thomas, Andi Miirza, Bilal Hussain, Harsha Gopireddy, Rohit Unnithan, Tojo Thomas, Zeeshan Sahi, and Zamir Haider
VIK Playing 11 (Probable):
Zahid Mahmood, Waleed Aslam, Asad Hussain, Usman Hadi, Zeeshan Sahi (C), Zamir Haider (WK), Akhil Garje, Harsha Gopireddy, Arjun Nagathankandy, Ehsan Latif, and Harsha Busireddy
Fuchse Berlin Lions Squad:
AB Gazizadeh, Derek Seto, Neel Ranasinghe, Akila Rajapakshe, Dinesh Loronsu Hewa, Tharanga Loku Liyana, Lukshan Perera, Sudesh Wickramasekara, Stefane Siriwardana, Ganidu Arumadura, Imran Muhammad, Shamal Hydari, Nouman Stanikzai, Praveen Nattramilarasu, Duleep Kodithuwakku, Indika Gunasekara, Prabath Wijayawickrama, Chamila Bandara, Vinny Muruhesapillai, and Tiron De Alwis
FBL Playing 11 (Probable):
Chamila Bandara, Imran Muhammad, Vinny Muruhesapillai, Indika Gunasekara (WK), Ganidu Arumadura (C), Tharanga Loku Liyana, Tiron De Alwis, Nauman Stanikzai, Stefane Siriwardana, Dinesh Loronsu Hewa, and Praveen Nattramilarasu
VIK vs FBL Dream11 Top Picks & Key Players
FC Viktoria 89 –
Zahid Mehmood – 69 runs and 2 wickets in 2 matches
Ehsan Latif – 4 wickets in 2 matches
Harsha Gopi Reddy – 2 wickets in 2 matches
Fuchse Berlin Lions –
Indika Gunasekara – 97 runs in 4 matches
Ganidu Arumadura – 5 wickets in 4 matches
Nauman Stanikzai – 3 wickets in 4 matches
Also Read: WWE release three-time World Champion Bray Wyatt ending his 12 year tenure at the Company
VIK vs FBL who will win today match?
As per our VIK vs FBL Today Match Prediction, FC Viktoria 89 are expected to win both matches.
VIK vs FBL Dream11 Team for Today
WK: I Gunasekara
BAT: C Bandara, W Aslam, M Nagathankandy
AR: Z Mahmood (C), G Arumadura, I Muhammad (VC), T Loku-Liyana
BOWL: E Latif, N Stanikzai, H Gopireddy