Fantasy Cricket Tips
AF vs MAL Dream11 Prediction Today – FanCode ECS T10 Malmo Semifinal 2 – Live Score Team News Top Picks, 14 August 2021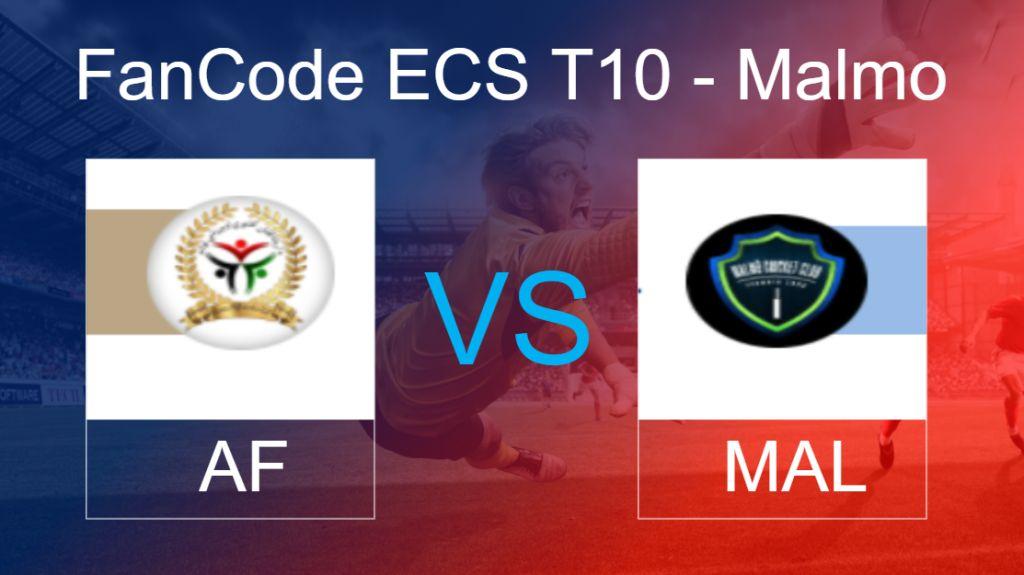 AF vs MAL Dream11
Ariana AKIF will meet Malmo in the 2nd semifinal of the ECS T10 Malmo on Saturday. Ariana AKIF have been one the most consistent sides in the tournament so far as they finished at the top of the Group A points table with 7 wins and a single loss in 8 matches. In the quarterfinal, they defeated Lund by 8 wickets with 4 overs remaining in a one-sided contest.
Malmo, on the other hand, finished 3rd in Group A points table with 3 wins and 4 losses in 8 matches. However, they managed to spring a surprise in the quarterfinals by defeating Landskrona by 10 wickets in an emphatic manner. They will be looking to cause 2nd consecutive upset in the competition to reach the final. Let's take a look at AF vs MAL Dream11 Match Prediction for this ECS T10 Malmo fixture.
AF vs MAL Dream11 Today Match Prediction Details
Fancode ECS T10 Malmo – Semifinal 2
Ariana AKIF vs Malmo
Date: Saturday, 14 August 2021
Time: 2:00 PM
Venue: Landskrona Cricket Club
Check the Live Scores – CLICK HERE
AF vs MAL Live Streaming: Fancode
AF vs MAL Dream11 Tips & Prediction – Team News
Ariana AKIF Squad:
Dharmender Singh (C), Hazrat Omed, Imran Khan, Karan Singh, Farid Mohammad, Zabiullah Waradak, Sedik Sahak, Khaled Mohammad, Javid Khan, Sreekanth Medavarapu, Mahmood Hijazi, Mazhar Khan, Krishna Digumurthi, Qaiser Mahmood, Rahatullah, Pawan Kumar, Yousaf Babak, and Ihsan Shirzad
AF Playing 11 (Probable):
Khaled Mohammad, Sedik Sahak, Sreekanth Medavarapu, Delawar Khan, Abdul Naser, Dharmender Singh (C), Ihsan Ullah Shirzad, Imran Khan, Krishna Digumurthi, Mahmood Hijazi, and Yousaf Babak
Malmo Squad:
Hammad Rafiq (C), Azim Chinwari, Harris Aziz, Hassan Zaigham, Nikhil Mathur, Bilal Zaigham, Fawad Shirzad, Sanaullha Habibzai, Sunny Sharma, Yarjan Mohammadi, Musadar Mubarak, Husain Cheema, Qaiser Munir, Saqlain Shah, Ulfat Haidari, Saad Mohammad, Tarequllah Arab, and Sudais Khan
MAL Playing 11 (Probable):
Nikhil Mathur, Husain Cheema, Musadaq Mubarak, Qaiser Munir, Saad Mohammad, Sudais Sudais, Harris Aziz, Hammad Rafiq (C), Saqlain Karamat Shah, Sunny Sharma, and Yarjan Mohammadi
AF vs MAL Dream11 Top Picks & Key Players
Ariana AKIF –
Delawar Khan – 123 runs and 7 wickets in 5 matches
Ihsan Shirzad – 181 runs in 9 matches
Dharmendar Singh – 7 wickets in 9 matches
Malmo –
Hammad Rafiq – 164 runs and 8 wickets in 9 matches
Azim Chinwari – 10 wickets in 8 matches
Musaddaq Mubarak – 9 wickets in 9 matches
AF vs MAL who will win today match?
As per our AF vs MAL Today Match Prediction, Ariana AKIF are likely to win both matches.
AF vs MAL Dream11 Team for Today
WK: I Ullah Shirzad
BAT: S Sharma, A Naser, K Mohammad
AR: D Khan (C), Q Munir, H Rafiq (VC), M Mubarak
BOWL: A Chinwari, S Sahak, D Singh