Fantasy Cricket Tips
BER vs RCD Dream11 Prediction Today Match – FanCode ECS T10 Dresden – Live Score Team News Top Picks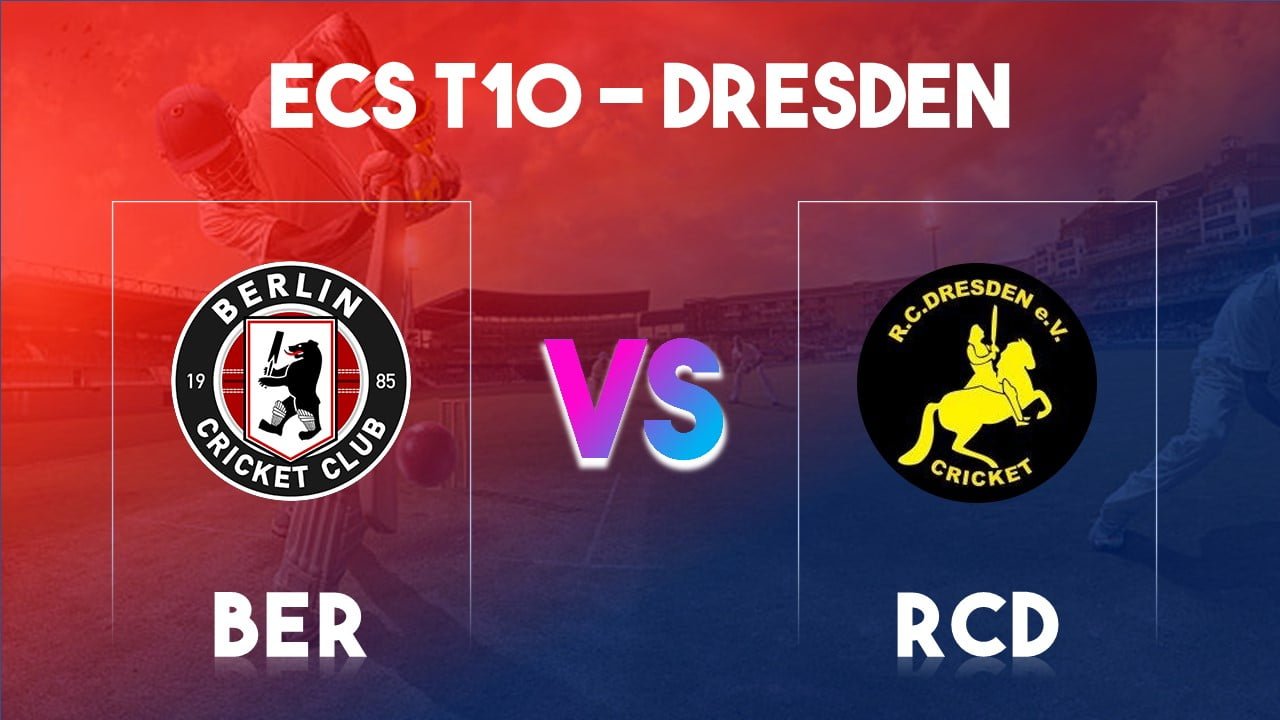 BER vs RCD Dream11 Prediction: Berlin CC will take on RC Dresden in the first Semifinal match of ECS T10 Dresden. Both teams have played a good game in the league stage and earned the place in knockouts.
Berlin CC has registered 6 wins and 1 draw out of the 8 games they had played this season and one of the most successful teams of this tournament, Their Quarter-final game got abandoned due to rain and they got the entry in semi-finals due to their performance in the league stage.
On the other hand, RC Dresden also played well during the league stage. Their previous match was also abandoned due to rain and they also got the entry in Semifinals. It will be interesting to see, what will be the results this time. Let's take a look at BER vs RCD Dream11 Match Prediction for this ECS T10 Dresden fixture.
BER vs RCD Dream11 Today Match Prediction Details
FanCode ECS T10 Dresden – 1st Semifinal
Berlin CC vs RC Dresden
Date: Saturday, 28 August 2021
Time: 12:30 PM
Venue: Rugby Cricket Dresden eV, Dresden
When you have electricity running in your veins ⚡

Scores, news, previews 👉 https://t.co/6PLADFbASj

FanCode ECS Dresden, Germany. 1000 matches this year. WELCOME TO #ECS21 @FanCode @Dream11 @cricket_germany pic.twitter.com/vPAKj3Ss25

— European Cricket (@EuropeanCricket) August 27, 2021
Follow the Live Cricket Scores on the Sports Tattoo
Berlin CC vs RC Dresden match will be streamed online on the Dream11 Sponsored FanCode app. Viewers can also watch live scores on the Sports Tattoo.
BER vs RCD Dream11 Prediction Today – Team News
Berlin CC Squad (BER):
Saddam Gill, Nick Kraiger, Nagapratap Mahanandhi, Mani CS, Reuben Davies, Awais Zafar, Gaurav Kaduskar, Ivan Doubell, Rohit Grover, Aarij Qureshi, Ata Ahmad, Manish Tiwari, Alex Smith, Anas Sherwani, Sahil Lal, Asad Baig, Karan Singh, Abhilash Anantharam, Makarand Parab, Imran Bukhari, Vimal Marripeddi.
RC Dresden Squad (RCD):
Mustafa Khan Yousefzai(WK), Vivek Nandkumar Chakankar, Kapil Chandnani, Hossain Mobarak, Sandeep Kamboj(C), Hammad Ali, Arun Kumar Harkanchi(WK), Shahrukh -Khan, Belal Zadran, Almas Tariq, Rahul Grover, Aniruddh Das, Surendra Prasad, Bilal Sheikh, Gulzar Rasool, Tamaljit Day(WK), Ijaz Ahmed, Amrit Pal, Rahul Krishna, Vikas Manjunatha, Avinash Hariharan, Foqrul Islam, Azam Ali Rajput, Waris Taghr, Norullah Salarzai, Roman Sahar, Nilakantha Sahoo.
BER Probable11:
Karan Singh, Makarand Parab, Manish Tiwari, Abhilash Anantharam, Mani CS, Ata Ahmad, Imran Bukhari, Ivan Doubell, Reuben Davies, Saddam Gill, Awais Zafar.
RCD Probable11:
Mustafa Khan, Vivek Nandkumar, Kapil Chandani, Sandeep Kamboj, Hossain Mobarak, Arun Harkanchi, Belal Zadran, Shahrukh Khan, Hammad Ali, Rahul Grover, Almas Tariq.
BER vs RCD Dream11 Top Picks & Key Players
Berlin CC-
Nick Kraiger – 95 runs and 9 wickets in the tournament
Rohit Grover – 204 runs and 3 wickets in the tournament
RC Dresden-
Sandeep Kamboj – 108 runs and 6 wickets in the tournament
Belal Zadran – 104 runs and 5 wickets in the tournament
BER vs RCD who will win today match?
As per our BER vs RCD Today Match Prediction, Berlin CC is expected to win this game. However, the results can be different as both teams are equally good.
BER vs RCD Dream11 Team for Today
Wicketkeeper:
1) A Anantharam
Batsman:
2) H Mobarak
3) R Grover
4) K Singh
All-rounder:
5) K Chandnani
6) S Kamboj
7) N Kraiger
Bowler:
8) B Zadran
9) I Bukhari
10) S Gill
11) A Zafer
Dream11 team shown here is only a match before the team and the original team can be different after the release of lineups.