Cricket
WATCH: Jarvo 69 releases a Youtube video after being released by the Police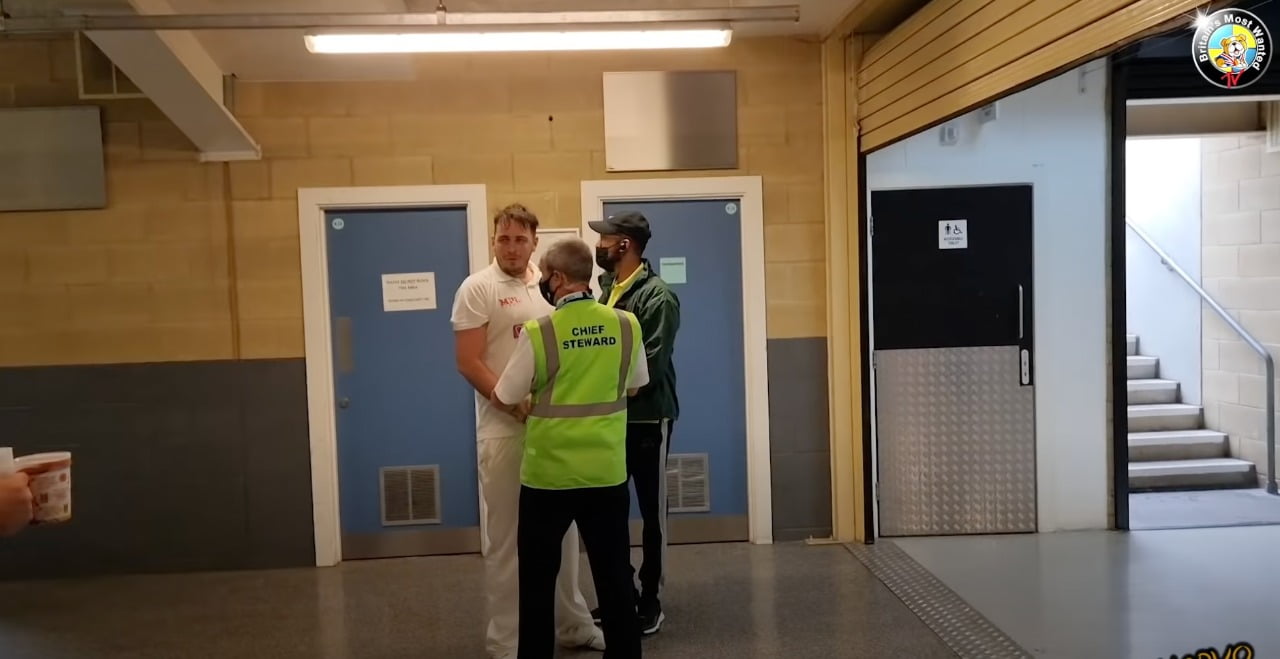 Prankster Daniel Jarvis AKA Jarvo 69, who had been arrested after his continuous successful attempts at invading into the field during the ongoing test series between India and England, has finally been released and he has posted a youtube video which has the footages of all the incidents from on and off the pitch and also those from inside the police station.
Also Read:- OEI vs FRD Dream11 Prediction Today Match – FanCode ECS T10 Cartaxo – Live Score Team News Top Picks

To begin with, what did Jarvo do which resulted in him being arrested and suffering in police custody for a full day? Well it all started on Day 2 of the Lord's test, i.e. the second test match of the ongoing series between India and England. When the players were taking the ground after the lunch break, an english fan wearing a team India jersey, got inside the field and pretended to be a player of Team India. After much resistance, he was finally shown his way out by the Groundsmen and the Stewards.

The fan, named Jarvo 69, became a laughing stock and a fan favourite with his few seconds of comedy sketch inside the field as he provided the audience a much required comic relief amid a high intensity match. He started gaining followers on social media and people started to know him. It was discovered that Daniel Jarvis was actually a prankster who had a youtube channel. He did pranks like this for gaining views. As Jarvo was getting a lot of attention from this entire India vs England series prank, he decided to continue doing it.

For this very reason, he appeared in the third test at Headingley stadium as well. This time, he dressed up as a batsman of Team India and walked into the field padded up and ready to bat for the visitors. Once again, he was escorted out of the field but this time, he received a severe punishment. Jarvo was banned from Headingley stadium for lifetime and people thought that it was the end to his nuisances.
Also Read:- GOR vs MAL Dream11 Prediction Today Match – FanCode ECS T10 Cartaxo – Live Score Team News Top Picks

However, he crossed all limits when he repeated the same thing in the fourth test as well. By this time though, the fans were fed up with him and as the netizens mentioned, it was 'not a joke anymore'. He entered as a bowler with. ball in his hand and threw the ball at the English batsman on strike. However, while storming inside the pitch, Jarvo collided with Jonny Bairstow, the batsman who was standing at the non-striker's end and created quite a chaos.
Jarvo posts a Youtube video after getting released
For the same reason, Jarvo was arrested under suspicion of Assault. He remained in Police custody for one full day after which he was released. A day after being released, he has finally uploaded a video of the full incident on his Youtube channel. The video already has over 240k views on youtube and can be considered as viral.
Also Read:- MAL vs FRD Dream11 Prediction Today Match – FanCode ECS T10 Cartaxo – Live Score Team News Top Picks