Fantasy Cricket Tips
LND vs MAM Dream11 Prediction Today – FanCode ECS T10 Malmo – Live Score Team News Top Picks, 7 August 2021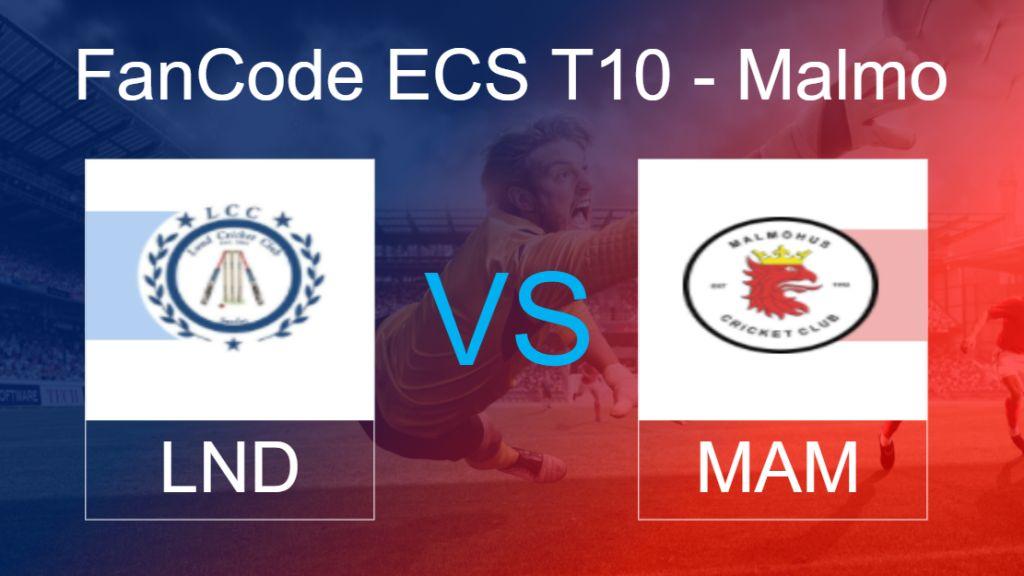 LND vs MAM Dream11
After getting four quarterfinalists from Group A, it is time for the action in Group B as Lund will take on Malmohus in the opening game for the respective sides in the ongoing ECS T10 Malmo. Both teams are stacked with some serious talent and the fans could expect a cracker of a contest.
Malmohus finished as the semifinalists last season and they will try to improve and get one step further this season. Lund, on the other hand, are making their ECS debut and they will be itching to make an impactful beginning in the marquee tournament. Let's take a look at MAL vs HRO Dream11 Match Prediction for this ECS T10 Malmo fixture.
LND vs MAM Dream11 Today Match Prediction Details
Fancode ECS T10 Malmo – Match 21 & 22
Lund vs Malmohus
Date: Saturday, 7 August 2021
Time: 12:00 PM & 2:00 PM
Venue: Landskrona Cricket Club
Check the Live Scores – CLICK HERE
LND vs MAM Live Streaming: Fancode
LND vs MAM Dream11 Tips & Prediction – Team News
Lund Squad:
Javed Mohammad, Fainaz Inamdeen, Farhad Hemat, Priyesh Ranjan, Liji George, Praveen Papareddy, Inder Singh, Nabeel Sayed, Chinthan Rai, Debarchan Dash, Jerome Jeevanandham, Ovais Syed, Ali Ihsan, Ashfar Ali, Puneeth Shivarudrappa, Sunny Beerla, Usman Zia, Wahab Hassan, Revanth Thiruvallur, Shashank Bhanuprakash, Happy Singh, and Oktai Gholami
LND Playing 11 (Probable):
H Virk, Ashfaq Ali, G Lijo Thomas, V Srinivas, Oktai Gholami, Debarchan Dash, Wahab Hassan, P Ranjan, M Usman Zia, C Rai, and H Malik
Malmohus Squad:
Rizwan Tarar, Ankit Gupta, Ben Tew, Hari Krishna, Mahesh Kunapuli, Nooryaleh Anwari, Ashish Rajput, Shailesh Kachhi, Sheron Nord, Faraz Muneer, Dheeraj Malhotra, Gopi Devulapally, Sardar Ibrahimkhel, Shahbaz Hussain, Khurram Shahzad, Naz Maddy, Sambit Pattanaik, Sundaram Srivastava, Usman Safi, and Raseka Danasekera
MAM Playing 11 (Probable):
Ankit Gupta, N Madhavan, N Anwari, Sheron Nord, Faraz Muneer, Raseka Danasekara, Dheeraj Malhotra, S Hussain, G Krishna, R Ashraf, and M Kunapali
LND vs MAM Dream11 Top Picks & Key Players
Lund –
Debarchan Dash
Oktai Gholami
Malmohus –
Dheeraj Malhotra – 171 runs and 4 wickets in 6 matches last season
Ankit Gupta – 152 runs in 6 matches last season
LND vs MAM who will win today match?
As per our LND vs MAM Today Match Prediction, Malmohus are expected to win both games.
LND vs MAM Dream11 Team for Today Match
WK: A Gupta
BAT: D Malhotra (VC), A Ali, K Singh Bharaj
AR: N Madhavan, S Hussain, D Dash (C)
BOWL: F Muneer, U Safi, I Singh, H Malik