NFL
Saints Running Back Alvin Kamara arrested by LVMPD hours after his Pro Bowl match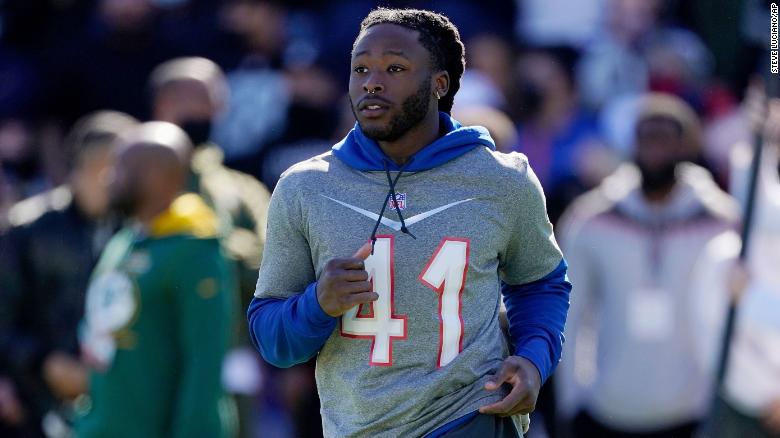 According to reports, New Orleans Saints player Alvin Kamara has been arrested in Las Vegas after assaulting a person and causing serious injuries. The incident took place at a nightclub in Sin City hours after the Pro Bowl match between AFL All-Pros and NFC All-Pros which Kamara also featured in on 7th November (Playing for NFC All-Pros). The assaulted person has been admitted to a Hospital and he is currently recovering.

The incident was reported to the Las Vegas Metropolitan Police department and they investigated it at length to find out that NFL player Alvin Kamara was involved in it. They thus arrested the player and immediately transferred him to Clark County Detention Center. The Running back did not resist arrest.
Alvin Kamara arrested after assaulting a person at a Nightclub
After arresting the player, the LVMPD tweeted the FIR (For Immediate Release) on Twitter asking for information from anyone who witnessed the incident, for further detailed investigation. The crime has been reported as "NFL Player Arrested for Battery Resulting in Substantial Bodily Harm" by the department.

The FIR read, "On February 5, 2022, at approximately 5:50 p.m LVMPD patrol officers were dispatched to a local hospital where a person was reporting a battery. The victim reported being battered at a nightclub located in the 3500 block of South Las Vegas Boulevard."

"The investigation by LVMPD Detectives determined the victim was battered by the suspect, later identified as Alvin Kamara. He was located and taken into custody without incident on February 6, 2022. Kamara was transported to the Clark County Detention Center where he was booked for battery resulting in substantial bodily harm," it added.

If Alvin Kamara is found guilty of the alleged assault, he can face several years of punishment in prison under the Nevada State Law. Besides, he will also be facing disciplinary actions by NFL under the Personal Conduct Policy.

Alvin Kama featured in his 5th Pro-bowl match today. He was targeted for 6 catches, he caught four and gained 23 yards for NFC All-Stars. He averaged 5.8 Yards. Unfortunately he could not win the match for his team and AFC All-Stars ended up winning it 41-35.
Also Read:- Jimmy Garoppolo talks about his future after 49ers coach Kyle Shanahan says a return is still possible