All F1 Teams: The Federation Internationale de l'Automobile (FIA), motorsport's international governing body, defines Formula One as the highest level of open-wheeled car racing. The term "formula" refers to a set of regulations established by the FIA to which all competitors and cars must conform. The F1 World Championship season is held each year, and it consists of a series of races known as Grands Prix, which are generally contested on purpose-built circuits and, on a few occasions, on closed city streets. Constructors are granted points based on the finishing positions of their two drivers at each Grand Prix, and the constructor with the most points at the end of each championship is declared World Constructors' Champion for that year.
All F1 Teams & Constructors
Adams F1 Team
Adams and his supporters arranged with Team Lotus to raise $500,000 to drive for them for two races during the 1994 Formula One season. Part of the financing came from an insurance cover he purchased against his Belgian Procar race at Spa, which he won.
AFM F1 Team
Alex von Falkenhausen Motorenbau (AFM) (other sources say the M stood for Munich) was a German racing car builder. The team was founded by Alexander von Falkenhausen, the primary engineer in the creation of BMW's model 328 in the 1930s, and Alfred Boning, Ernst Loof, and Fritz Fiedler. The 328 was a dominant sports vehicle in late 1930s Europe, winning the Mille Miglia event in Brescia, Italy, in 1940.
AGS F1 Team
Automobiles Gonfaronnaises Sportives (AGS) was a minor French racecar constructor that raced in different racing categories for thirty years, including Formula One, from 1986 to 1991.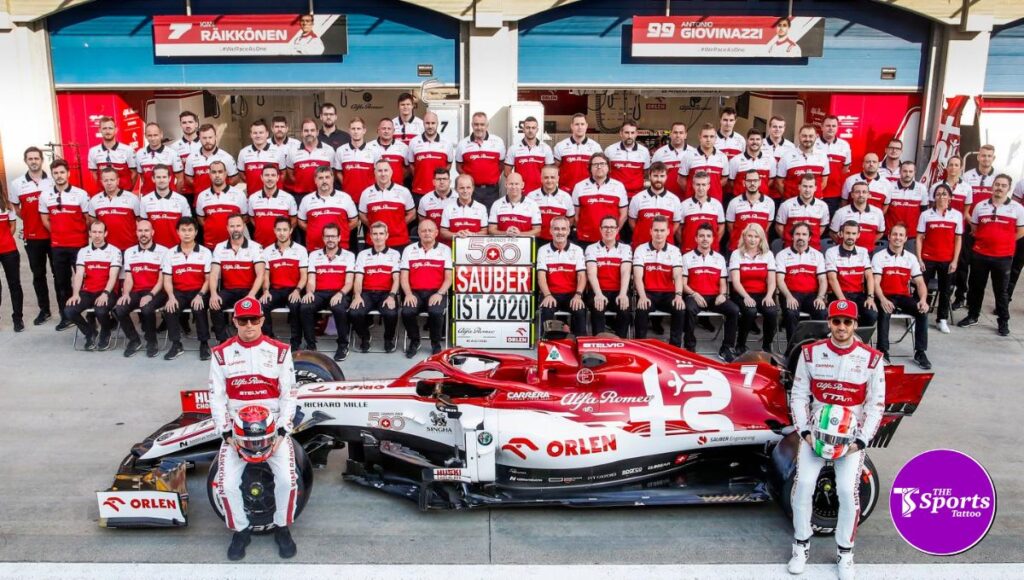 Alfa Romeo F1 Team
Alfa Romeo, an Italian car manufacturer, has competed in Formula One on multiple occasions. It is presently known as Alfa Romeo F1 Team Stake and is managed by Sauber Motorsport AG. Between 1950 and 1987, the brand participated in motor racing irregularly as a constructor and engine supplier, and since 2015, as a commercial partner.
AlphaTauri F1 Team
AlphaTauri is a Formula One racing team and constructor based in Italy. Red Bull Racing is one of two Formula One constructors owned by the Austrian beverage company Red Bull. To promote the AlphaTauri fashion brand, the constructor was renamed from "Toro Rosso" to "AlphaTauri" for the 2020 Formula One World Championship. According to Franz Tost and Helmut Marko, Scuderia AlphaTauri is no longer a junior team but Red Bull Racing's sister team.
Alpine F1 Team
Alpine F1 Team, sometimes known as BWT Alpine F1 Team, is a Formula One constructor that debuted in the 2021 Formula One World Championship. The team was rebranded for 2021 to promote Renault's sports car brand, Alpine, and continues to operate as Renault's works team. It was formerly known as the Renault F1 Team and was owned by the French automotive enormous Groupe Renault.
Alta F1 Team
The Alta Car and Engineering Company, or simply Alta, was a British sports and racing vehicle manufacturer. Between 1950 and 1952, their cars competed in five FIA World Championship events.
Amon F1 Team
Chris Amon Racing, known as Amon, was a Formula One team founded by New Zealand driver Chris Amon. It raced as a privateer team in the 1966 Italian Grand Prix before becoming an independent constructor in the 1974 Formula One season.
Andrea Moda F1 Team
Andrea Moda Formula raced in Formula One during the 1992 season. Andrea Moda, founded by Italian shoe designer Andrea Sassetti, inspired the name. The team competed in nine World Championship Grands Prix, but while officially entering two cars for multiple events, they only qualified for one.
Apollon F1 Team
Apollon was a Formula One racing car manufacturer. The team competed in one Formula One World Championship race but did not qualify. The team was founded by racing driver Loris Kessel.
Arrows F1 Team
Arrows Grand Prix International was a British Formula One team who competed between 1978 and 2002. From 1991 until 1996, it was known as Footwork.
Arzani-Volpini F1 Team
Arzani-Volpini was an Italian Formula One constructor founded by Gian Paolo Volpin and engine manufacturer Egidio Arzani. Volpini began his Formula racing career in the lower divisions, such as Formula Junior and Formula Three. Volpini teamed up with Arzani in 1954 to compete in the Formula One World Championship.
Aston Butterworth F1 Team
Aston Butterworth was a Formula Two constructor from the United Kingdom who raced in the World Drivers' Championship while it took place under Formula Two regulations in 1952 and 1953. Four World Championship Grands Prix participated in by the team.
Aston Martin F1 Team
Aston Martin is a British car company that has competed in Formula One in various forms and is presently racing in F1 under the name of Aston Martin Aramco Cognizant F1 Team. The company introduced the DBR4 chassis utilizing its engine in Formula One during the 1959 season, although it failed to collect any points. They struggled throughout the 1960 season, failing to score a single point. As a result, Aston Martin decided to withdraw from Formula One after 1960. The Racing Point F1 Team's commercial rebranding in the team's relaunch as Aston Martin in 2021, using customer Mercedes power units.
ATS F1 Team
ATS (Auto Technisches Spezialzubehör) is a German manufacturer of alloy wheels for road and racing vehicles. It is headquartered in Bad Dürkheim, near the Hockenheimring racetrack. From 1977 until 1984, ATS had a Formula One racing team.
BAR Formula1 Team
British American Racing (BAR) was a Formula One constructor from 1999 to 2005. BAR began by acquiring Tyrrell, and their first year was powered by Supertec engines. Following that, they formed a cooperation with Honda that lasted six years.
Behra-Porsche Formula1 Team
Behra-Porsche was a Formula One constructor who competed in four World Championship Grands Prix in 1959 and 1960. The constructor started – and finished – two races during the 1960 season but scored no championship points.
Benetton Formula1 Team
Benetton Formula Ltd., or just Benetton, was a Formula One constructor that competed from 1986 through 2001. The Benetton family owned the squad, which controls a global clothing brand of the same name. Renault acquired the team in 2000. However, it raced as Benetton for the 2000 and 2001 seasons. The team was renamed Renault in 2002. Alessandro Benetton was the chairman of the Benetton Formula team from 1988 to 1998.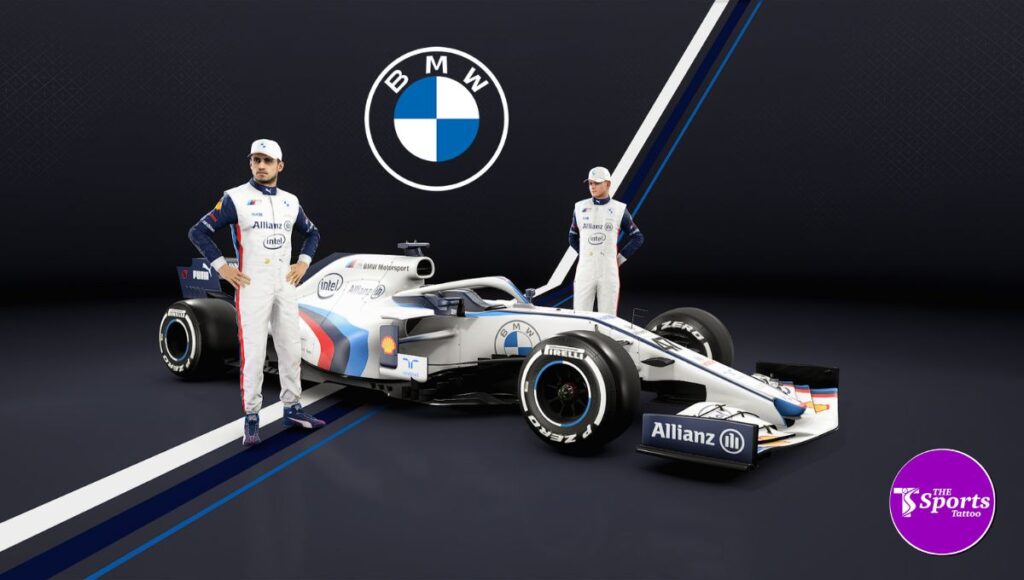 BMW Formula1 Team
BMW has been active in Formula One in multiple capacities since the World Drivers' Championship was established in 1950. In the 1950s and 1960s, the firm competed in occasional races (typically under Formula Two regulations) until developing the BMW M12/13 inline-four turbocharged engine in the 1980s.
BMW Sauber Formula1 Team
BMW Sauber was a Formula One World Championship constructor that participated between 2006 and 2009. The teams were formed due to BMW's acquisition of the Sauber team in 2006.
Boro Formula 1 Team
Boro was a Dutch Formula One team founded by brothers Bob and Rody Hoogenboom. The Ensign team constructed its single car, but it was renamed Boro after their primary sponsor, HB Bewaking, became its owner after a legal disagreement with Ensign owner Morris Nunn. The name combines the first names of the Hoogenboom brothers, Bob and ROdy.
Brabham Formula 1 Team
Motor Racing Developments Ltd. (/braebm/), also known as Brabham, is a British racing car constructor and Formula One racing team. In its 30-year Formula One career, the team won four Drivers' World Championships and two Constructors' World Championships. It was founded in 1960 by Australian driver Jack Brabham and British-Australian designer Ron Tauranac. The only such success using a car bringing the driver's name is Jack Brabham's 1966 FIA Drivers' Championship.
Brawn Formula 1 Team
Brawn GP was a Formula One constructor that participated in the 2009 Formula One World Championship with Jenson Button and Rubens Barrichello as drivers. After Honda announced their exit from the sport in December 2008 owing to the global financial crisis, the team was created in 2009 by an ownership buyout led by Ross Brawn of the Honda Racing F1 Team. The team began working on their car in early 2008 when Honda still owned it. Honda supplied a $100 million budget for the 2009 season, while Mercedes provided engines through a customer agreement.
BRM Formula 1 Team
British Racing Motors (BRM) was a Formula One racing team based in the United Kingdom. Founded in 1945 and located in the Lincolnshire market town of Bourne, it competed in 197 grand prix from 1951 to 1977, winning seventeen. BRM won the constructors' championship in 1962, while its driver Graham Hill won the world championship. BRM finished second in the constructors' competition in 1963, 1964, 1965, and 1971.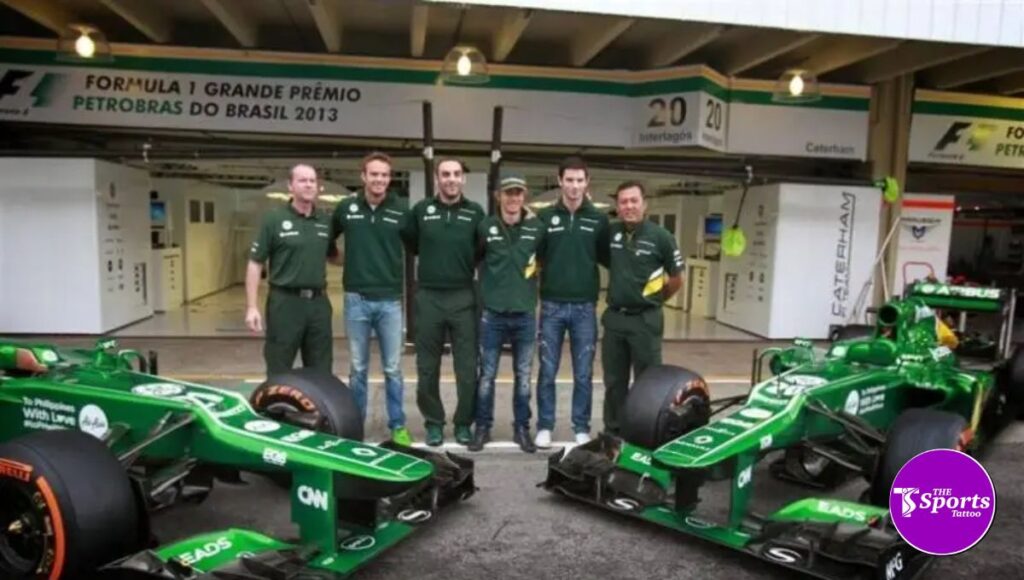 Caterham Formula One Team
The Caterham F1 Team was a Malaysian-owned Formula One team headquartered in the United Kingdom that competed under a Malaysian license. From 2012 to 2014, the Caterham brand participated in the Formula One World Championship when previous owner and team principal Tony Fernandes acquired British sportscar manufacturer Caterham Cars, becoming the Caterham Group.
Christensen Formula One Team
Michael Klitgaard Christensen (born August 28, 1990) is a racing driver from Danish. He is participating for Porsche in the FIA World Endurance Championship in the Hypercar class in the #5 Porsche 963.
Cisitalia Formula One Team
Cisitalia was an Italian sports car and racing car manufacturer. "Cisitalia" is a nickname for "Compagnia Industriale Sportiva Italia," a corporate conglomerate created in Turin in 1946 by entrepreneur and athlete Piero Dusio. The Cisitalia 202 GT from 1946 is regarded as the "rolling sculpture" and is one of the company's most popular designs.
Clemente Biondetti Formula One Team
Clemente Biondetti was an Italian racing driver who raced for Ferrari in the 1950 Italian Grand Prix. This was the first appearance of a Ferrari not powered by a Ferrari engine, but it was the start of Jaguar's long connection with F1. However, engine issues caused Biondetti to withdraw from the race.
Coloni Formula One Team
Coloni Motorsport, often known as Coloni, was an Italian motor racing team. Enzo Coloni founded the team in 1983 and competed in Formula Three from 1983 to 1986 before moving on to Formula One as Enzo Coloni Racing Car Systems from 1987 to 1991. They attempted 82 times to compete in a Formula One race but only qualified 14 times.
Connaught Formula One Team
Connaught Engineering, sometimes known simply as Connaught, was a British Formula One, Formula Two, and various sports car categories constructor. Their cars competed in 18 Grands Prix, totaling 52 races with their A, B, and C Type Formula 2 and Formula 1 Grand Prix vehicles.
Connew Formula One Team
Connew Racing Team, also known as Connew, was a British Formula One constructor with a short life. The team, founded by Peter Connew in 1971, produced a single car, the PC1.
Copersucar-Fittipaldi Formula One Team
Fittipaldi Automotive, often known as Copersucar after its first important sponsor, was a Formula One racing team and constructor from 1975 to 1982. It was the only Formula One team headquartered in Brazil. Wilson Fittipaldi and his younger brother, double-world champion Emerson, founded the team in 1974 with funding from the Brazilian sugar and alcohol group Copersucar.
Dallara F1 Team
Dallara Group S.r.l. is an Italian race car manufacturer created by Gian Paolo Dallara, its current President. After working for Ferrari, Maserati, Lamborghini, and De Tomaso, he founded Dallara Automobili in 1972 in his hometown of Varano de' Melegari (Parma), Italy.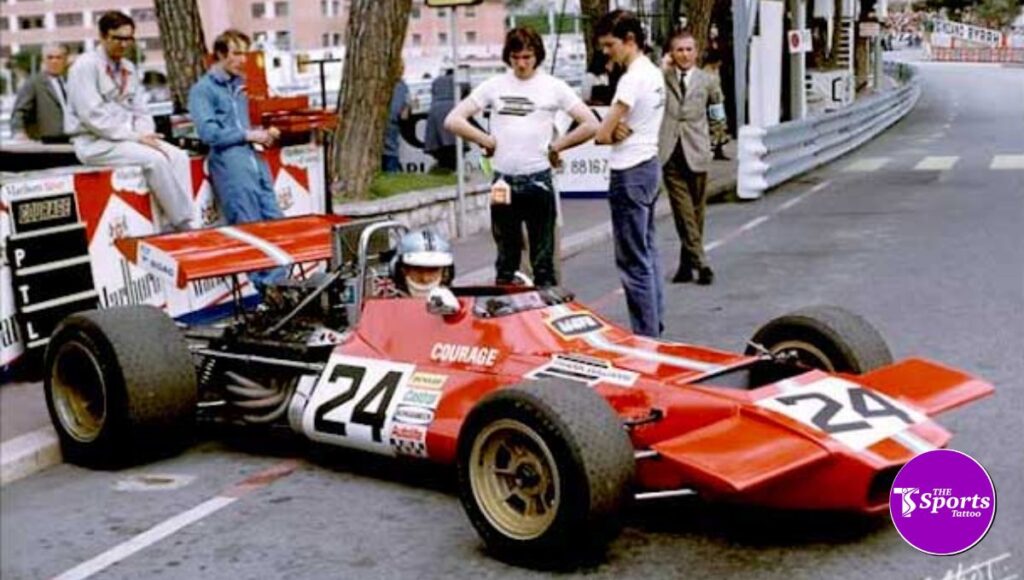 De Tomaso F1 Team
De Tomaso Automobili ltd. (formerly known as De Tomaso Modena SpA) is an Italian car manufacturer. An Argentine-born businessman, Alejandro de Tomaso (1928-2003), created it in Modena in 1959. It started making prototypes and racing cars, including a Formula One car for Frank Williams' team in 1970. Most of the automaker's funding came from de Tomaso's brother-in-law, Amory Haskell Jr. of Rowan Industries.
Deidt F1 Team
Deidt was a race car builder. From 1950 through 1952, Deidt cars raced in the FIA World Championship.
Del Roy F1 Team
Del Roy was a race car builder. Del Roy vehicles raced in the 1953 Indianapolis 500, which was part of the FIA World Championship.
Derrington-Francis F1 Team
Derrington-Francis Racing Team was a British Formula One team that existed for only a few years. After the ATS operation stopped in 1963, it was created by Stirling Moss' previous chief technician, Alf Francis, and engine tuner Vic Derrington, who acquired an old Automobili Turismo e Sport Tipo 100 car. The car, named for the team's founders, was built on a spaceframe chassis with a short wheelbase and square-shaped aluminum body panels.
Dunn F1 Team
The Dunn Engineering Special was a racecar that competed in the Indianapolis 500 as part of the FIA World Championship in the second half of the 1950s.
Eagle Formula1 Team
The Eagle, which debuted for the 1966 Formula One season, is widely considered one of the most beautiful Grand Prix cars ever raced at the highest levels of international motorsport.
Elder Formula1 Team
Elder was a racing car builder from the United States. The 1959 Indianapolis 500 was the first FIA World Championship event in which elder vehicles raced.
EMW Formula1 Team
Eisenacher Motorenwerk (EMW) was an East German vehicle and motorbike manufacturer in Eisenach. EMW competed in Formula One as a constructor in 1953, but only in one event, the 1953 German Grand Prix. The car was retired after 12 laps due to exhaust issues.
ENB Formula1 Team
Ecurie Nationale Belge (ENB) was a Formula One & sportscar racing team in the 1950s and 1960s founded by the combination of Jacques Swaters' Ecurie Francorchamps and Johnny Claes' Ecurie Belge. In Formula One, the team employed a variety of chassis over the years, including Ferrari, Cooper, Lotus, and Emerson, as well as a vehicle of their design, the ENB, which competed in only one World Championship Grand Prix, the 1962 German Grand Prix.
Ensign Formula1 Team
Ensign was a British Formula One constructor. They competed in 133 races, entering a total of 155 cars. Ensign earned 19 championship points but did not place on the podium. Marc Surer finished fourth in the 1981 Brazilian Grand Prix, setting the event's fastest lap. Ensign was created by Morris Nunn, who also served as the team's designer for the first two seasons. Nunn became a well-known chief engineer in the American-based Champ Car series, where he won titles with drivers Alex Zanardi and Juan Pablo Montoya in the late 1990s.
Epperly Formula1 Team
Quincy David "Quin" Epperly was a racing car manufacturer from the United States. John Wesley and Iowa Texas Epperly raised him in Floyd, Virginia. Epperly traveled to Southern California in 1940 to work at Lockheed and Pacific Airmotive after finishing a correspondence course in "Theory of Aircraft Construction." During the war, he joined the Coast Guard Reserve and worked evenings at the Wilmington Coast Guard Patrol Base on watch.
Euro Brun Formula1 Team
EuroBrun Racing was a Swiss-Italian Formula One team headquartered in Senago, near Milan. They competed in 46 Grands Prix with an Italian license between 1988 and 1990, entering 76 cars.
Ewing Formula 1 Team
Wayne Ewing was an American racecar builder. Ewing cars raced in the 1950 and 1960 Indianapolis 500 FIA World Championship races.
Ferguson Formula One Team
Harry Ferguson Research Limited was a British corporation formed by Harry Ferguson, dubbed "the father of the modern farm tractor." He was also a pioneer aviator, one of the first in Ireland to construct and fly his plane, and he went on to invent four-wheel drive systems for cars, including using them in Formula One racing cars. The company's headquarters were on Siskin Drive in Coventry, England.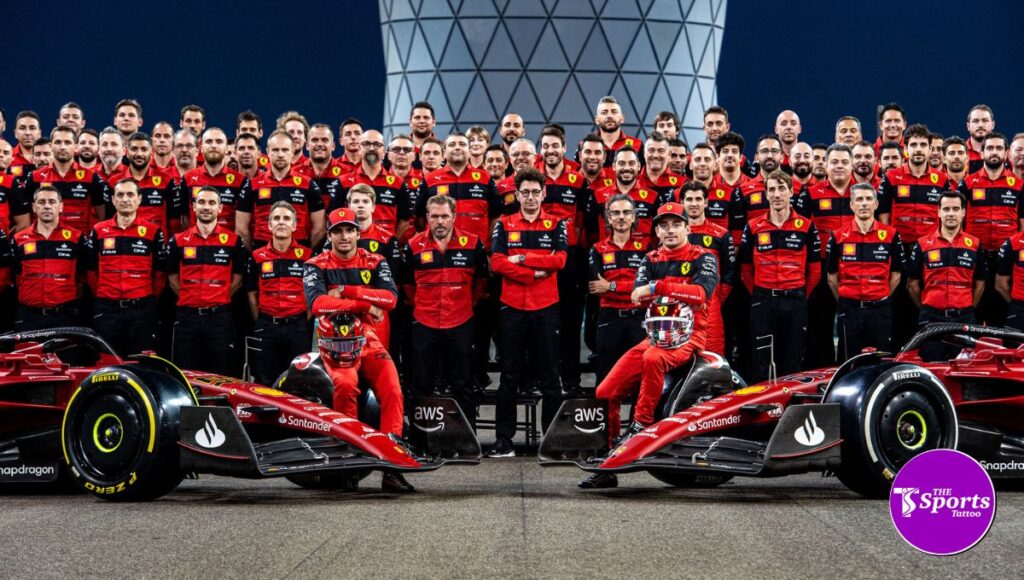 Ferrari Formula One Team
Scuderia Ferrari S.p.A. is the racing section of the luxury Italian carmaker Ferrari and the Formula One racing team. The team is also known as "The Prancing Horse" in its logo. It is the most successful and oldest Formula One team, having contested every world championship since the 1950 season. Enzo Ferrari formed the team to race Alfa Romeo cars. However, by 1947, Ferrari had begun producing its cars. Outside of Formula One, it has won the World Sportscar Championship, the 24 Hours of Le Mans, the 24 Hours of Spa, the 24 Hours of Daytona, the 12 Hours of Sebring, the Bathurst 12 Hour, races for Grand Tourer cars, and racing on road courses such as the Targa Florio, the Mille Miglia, and the Carrera Panamericana. The squad is also recognized for its passionate fan base, known as the Tifosi. The Monza Italian Grand Prix is considered the team's home race.
FISA Formula One Team
The FISA-FOCA clash was a political fight contested during the early 1980s between two now-defunct Formula One motor racing representing organizations, the Fédération Internationale du Sport Automobile (FISA) and the Formula One Constructors Association (FOCA). The conflict erupted in the late 1970s and early 1980s, ending in a boycott of the 1982 San Marino Grand Prix by racing teams connected with FOCA, an equivalent to a racing team union.
Fondmetal Formula One Team
Fondmetal S.p.A. is an Italian alloy wheel manufacturer founded in 1972 by Gabriele Rumi. Rumi's Formula, One constructor of the same name, raced in the 1991 and 1992 seasons, gaining 0 championship points. From the mid-1980s through the early 2000s, the firm also sponsored and provided wheels to other builders. Fondmetal USA was founded in 2014 as the Fondmetal brand extended to the United States. All wheels are still produced in Italy and are TUV certified.
Footwork Formula One Team
Footwork Arrows was a British Formula One racing team that participated between 1991 and 1996. Wataru Ohashi, head of Footwork Express Co., Ltd., a Japanese logistics company, began investing extensively in the Arrows team in 1990 (having previously sponsored a Japanese Formula 3000 team), with the arrangement requiring the cars to display the Footwork brand prominently. In 1991, the team rebranded Footwork and acquired an agreement to race with Porsche engines. The results were less than planned, and after just six races, Footwork discarded the Porsche engines in favor of Hart-built Ford engines.
Force India Formula One Team
Force India Formula One Team Limited, often known as Force India and subsequently Sahara Force India, was an Indian-licensed Formula One racing team and constructor based in Silverstone, United Kingdom. The team was created in October 2007 when a group led by Indian billionaire Vijay Mallya and Dutch businessman Michiel Mol paid €88 million for the Spyker F1 team.
Forti Formula One Team
Forti Corse, or Forti, was an Italian motor racing team best known for its brief and unsuccessful participation in Formula One in the mid-1990s. It was founded in the late 1970s and competed in fewer formulas throughout the next two decades. During this time, the team won four Drivers' Championships in Italian Formula Three and race wins in the International Formula 3000 championship, which it raced in from 1987 to 1994.
Frazer-Nash Formula One Team
Frazer Nash was a British sports car manufacturer that began in 1922 with Frazer Nash Limited, created by engineer Archibald Frazer-Nash. After the business's financial collapse in 1927, a new company, AFN Limited, was formed. In 1929, Harold John Aldington took control of AFN. Until the Second World War, AFN continued to make a small number of Frazer Nash-badged sports cars with a unique multi-chain gearbox. After the war, it produced another 85 sports cars until ending production in 1957.
Fry Formula One Team
Fry was a Formula Two manufacturer based in the United Kingdom. The team was founded by David Fry and Alec Issigonis, whose former employer at Alvis, John Parkes, hired his son Mike Parkes as a development driver. The car, constructed to Formula 2 specifications, featured a semi-monocoque design, an extreme forward operating position, and a shark fin at its rear. A Coventry Climax engine powered it.
The Fry F2 debuted at Brands Hatch in June 1958, with Parkes finishing sixth in its first race at the Crystal Palace circuit. The car participated in some Formula Two races between 1958 and 1959 before entering the 1959 British Grand Prix for Formula One. Parkes did not qualify for the race, posting the 27th-fastest time, and the car was not entered in another World Championship Grand Prix. The car participated in several more races before its final appearance on Boxing Day at Brands Hatch, finishing second.
Gilby F1 Team
Syd Greene owned Gilby Engineering, a British general engineering company. Greene lost an arm in a bicycle accident when he was 16, but he competed very successfully at many UK speed trials in the early 1950s. After he retired from competition, he fuelled his passion for motor racing by building a team named after his company and later by designing the Gilby racing car. The team competed in 12 Grands Prix of the Formula One World Championship, including six with cars of their design, but scored no points.
Gordini F1 Team
Gordini is a division of Renault Sport (Renault Sport) Technologies. In the past, it was a sports vehicle manufacturer and performance specialist, founded in 1946 by "Le Sorcier" (The Sorcerer) Amédée Gordini (1899–1979). In 1968, Gordini became a division of Renault, and Renault Sport was founded in 1976.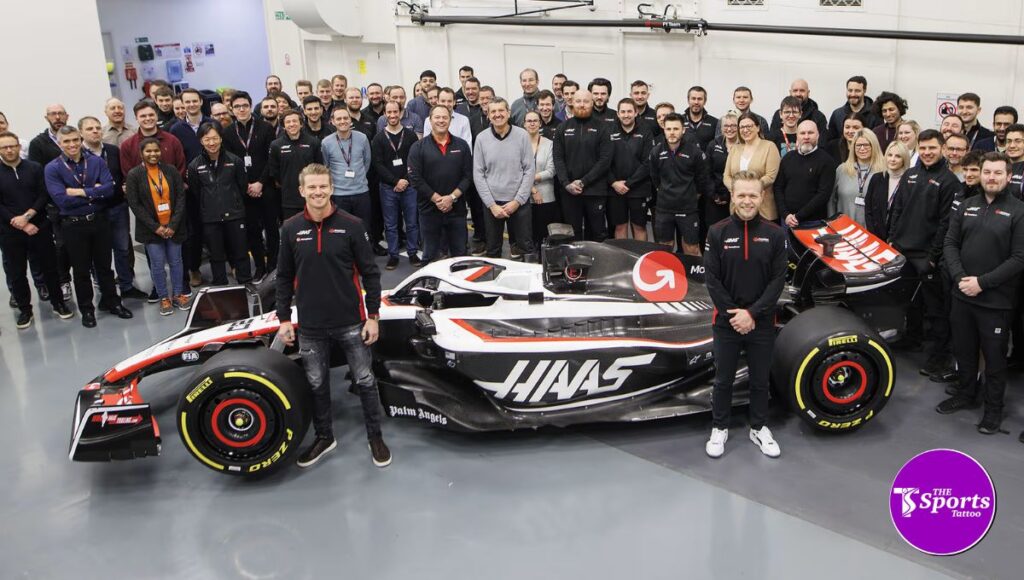 Haas F1 Team
Haas Formula LLC, competing as MoneyGram Haas F1 Team, is an American-licensed Formula One racing team founded in April 2014 by the co-owner of a NASCAR Cup Series team Gene Haas. Initially, the team intended to debut at the beginning of the 2015 season, but they ultimately decided to delay their entry until the 2016 season. Guenther Steiner is the team leader. The team's headquarters are located in Kannapolis, North Carolina, United States, 31 miles (50 kilometers) from Charlotte, alongside sibling team and NASCAR competitor Stewart-Haas Racing, even though the two are distinct entities. In addition, the team established a forward facility in Banbury, England, to turn around cars between European races.
Hesketh F1 Team
Hesketh Racing was a British Formula One constructor contested between 1973 and 1978. The team competed in 52 Grands Prix of the World Championship, winning one and obtaining eight additional podium finishes. 1975 marked its highest finish in the World Constructors Championship. Hesketh granted James Hunt his Formula One debut, and he was primarily responsible for the team's success. Alan Jones began his Formula One campaign in a Hesketh that was privately entered.
Hill F1 Team
Embassy Racing With Graham Hill, sometimes known as Embassy Hill, was a Formula One team founded by two-time Formula One World Champion Graham Hill. In 1973, the team started with a client, Shadow DN1 car, and in 1975, it began racing as a constructor with its chassis. The team had little success in three racing seasons, but all was cut short by the deaths of Hill, Tony Brise, and other of the company's most important employees in a light aircraft crash in the autumn before the 1976 season. The team was sponsored by Imperial Tobacco's Embassy cigarette brand and operated under many names.
Honda F1 Team
Honda, a Japanese automotive company, has competed in Formula One as an engine producer and team owner since 1964. Honda's involvement in Formula One began with the 1964 season, and their first victory came in 1965 at the Mexican Grand Prix. Honda withdrew at the end of the 1968 season owing to difficulty selling road vehicles in the United States & Honda driver Jo Schlesser's deadly tragedy.
Honda returned to the engine manufacturing business in 1983, starting a highly prosperous stage for the firm. After winning races in 1984 & 1985, Honda won the Constructors' Championship with Williams and McLaren every year from 1986 to 1991 and the Drivers' Championship with Nelson Piquet, Ayrton Senna, and Alain Prost every year from 1987 to 1991. Honda withdrew at the end of 1992, meeting their goals and seeing the Japanese asset price bubble fall.
Honda returned in 2000, supplying engines to British American Racing (BAR). In 2004, BAR-Honda finished second in the Constructors' Championship, and by the end of 2005, Honda had purchased the BAR team, which was renamed Honda in 2006. After winning the Hungarian Grand Prix with Jenson Button in 2006, Honda stated in December 2008 that they would be leaving Formula One immediately due to the global financial crisis, following modest success in 2007 and 2008.
Honda returned to the sport in 2015 as McLaren's works power unit supplier. The initial incarnations of the Honda power units were uncompetitive, and McLaren and Honda parted ways after three years. Toro Rosso used Honda engines as a works outfit for the 2018 season. After Honda showed rapid advancement with the engines, Red Bull Racing committed to using Honda engines for the 2019 season as well. Honda won their first hybrid race at the 2019 Austrian Grand Prix, and both teams went on to win a few more races. It was completed in the 2021 season when Max Verstappen, a Honda-powered driver, won the World Championship. The business officially exited the competition after 2021 to focus on carbon-neutral technology. Still, an agreement was reached for them to continue supplying the Red Bull teams until the end of 2025, with Honda-built engines winning more titles in 2022. With Aston Martin as their working partner, they will return in full force in 2026, attracted by implementing more environmentally friendly rules.
HRT F1 Team
Formerly known as Campos Meta 1 & Hispania Racing, HRT Formula 1 Team was a Spanish Formula One team formed by former racer Adrián Campos. Before its launch in 2010, it was sold to José Ramón Carabante and then in July 2011 to investment company Thesan Capital. It was the first Spanish team to compete in Formula One, following the failure of a before effort known as "Bravo F1" in 1993. HRT's owners indicated in November 2012 that they were trying to sell the franchise. The team was dropped from the 2013 entry list after failing to secure a buyer by the deadline of November 30.
HWM F1 Team
Hersham and Walton Motors (HWM), the world's oldest Aston Martin company, purchased the franchise in 1951. HWM competed in Formula One, Formula Two, and sports car racing as a racing car constructor.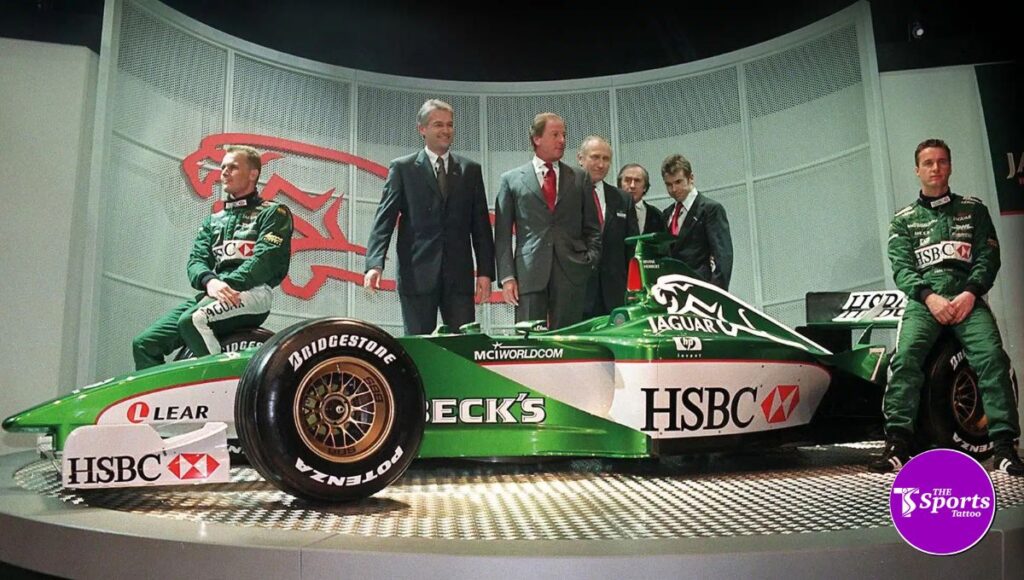 Jaguar F1 Team
Jaguar Racing refers to Jaguar Land Rover's racing dedication. Due to its collaboration with Tata Consultancy Services, it now participates in Formula E under Jaguar TCS Racing. From 2000 until 2004, it was a Formula One constructor, competing in the FIA Formula One World Championship. In addition to single-seaters, Jaguar has a long history in different types of sports car racing, most notably with the XJR sportscars, which had great success in the FIA World Sportscar Championship and the IMSA GT Championship in the late 1980s and early 1990s.
JBW F1 Team
JBW Cars was a British racing car company in the late 1950s that competed in Formula One from 1959 to 1961. Brian Naylor, a Stockport amateur driver, funded his mechanic Fred Wilkinson to create a variety of sports cars that were competitive against second-level national fields but not on the international stage. JBW constructed and entered Cooper single-seater racing cars for Naylor to drive in Formula Two and occasionally Formula One competitions, in addition to building its own sports racers.
Jordan F1 Team
From 1991 through 2005, Jordan Grand Prix was a Formula One constructor. Eddie Jordan, the team's founder and Irish billionaire, inspired the name. The team was in Silverstone, England, but competed under an Irish license. In early 2005, the team was sold to Midland Group, which competed as 'Jordan' for one last season before rebranding the team MF1 Racing for the 2006 season. Later that year, it was sold to Dutch manufacturer Spyker to become Spyker F1 in 2007, then again in 2008 to become Force India as a result of the Force India team's financial failure and subsequent takeover by a group led by Lawrence Stroll, the team's FIA entry still needs to be transferred in 2018. Thus the Jordan Grand Prix's original entry came to an end.
Kauhsen F1 Team
Kauhsen was a German Formula One constructor created by former sportscar racer Willi Kauhsen. The team began racing in Formula Two in 1976, acquiring Renault cars and had low success with various drivers. Kauhsen then competed in the 1979 Formula One season, having spent 1978 developing their chassis and Cosworth engines. They competed in two World Championship Grands Prix with Gianfranco Brancatelli, failing to qualify on both occasions before being shut down.
Kojima F1 Team
Kojima Engineering was a Japanese Formula One constructor that entered cars in the 1976 and 1977 Japanese Grand Prix.
Kuzma F1 Team
Eddie Kuzma started the racing vehicle manufacturer Kuzma in the United States. From 1951 through 1960, Kuzma cars raced in the FIA World Championship (only the Indianapolis 500). They won the Indianapolis 500 with Troy Ruttman in 1952.
Lambo F1 Team
Modena Team SpA was an Italian Formula One team who competed in a single season in 1991. Due to its connection to the Italian manufacturer, the team had a complicated past and is commonly called the "Lambo" or Lamborghini team. It took part in 16 World Championship Grand Prix (6 starts) but earned no Championship points. Its best finish was sixth in the United States Grand Prix in 1991.
Lancia F1 Team
The Scuderia Lancia, which later evolved into the Squadra Corse HF Lancia, is the Lancia automobile company's racing factory, founded in 1952 by Gianni Lancia, the brand's founder's son. The Scuderia Lancia officially entered motorsports, especially rallying, where it won in the Carrera Panamericana, Targa Florio, and Mille Miglia. The team competed in Formula One in 1954-1955 but did poorly. In the World Endurance Championship, the Squadra Corse won three world titles between 1979 and 1981, while in rallying, it won eleven constructors' titles & four drivers' titles between 1974 and 1992. Lancia has had no formal involvement in motor racing since the end of 1991.
Langley F1 Team
Langley was an American race car builder. Langley cars raced in only one FIA World Championship event, the 1950 Indianapolis 500.
Larrousse F1 Team
Larrousse Formula One was a motorsports racing team created in 1987 by Didier Calmels and experienced driver Gérard Larrousse as Larrousse & Calmels. It was situated in Antony, in Paris's southern suburbs. It was renamed Larrousse after Calmels left following his wife's murder. The team raced in Formula One from 1987 until 1994 before closing due to financial difficulties, finishing third in the 1990 Japanese Grand Prix.
LDS F1 Team
LDS refers to various single-seater racing prototypes constructed for the South African Formula One Championship. The "specials" were designed and built by Louis Douglas Serrurier, hence their name. Marks 1 and 2 were based on Cooper designs, while Mark 3 was based on the Brabham BT11. Mark 1 and Mark 2 models (1962-1965) came with 1.5-liter Alfa Romeo straight-4 engines.
LEC F1 Team
LEC was a British Formula One team and constructor headquartered in Bognor Regis, West Sussex. They competed in ten Grands Prix in 1973 with a March and in 1977 with their car, the LEC CRP1.
Lesovsky F1 Team
Lesovsky was a race car designer. From 1950 to 1960, Lesovsky roadsters competed in the Indy 500.
Leyton House F1 Team
Leyton House Racing competed in Formula One during the 1990 and 1991 seasons. It was a rebranding of the 1987 Formula One returnee March team. Since that year, Leyton House, a Japanese real estate corporation, had been the team's primary sponsor, and in 1989 it purchased the unit. Ivan Capelli and Mauricio Gugelmin, who had driven for March since 1987 and 1988, remained with the team under its new name.
Life House F1 Team
Life was an Italian Formula One constructor based in Modena. The company was named after its inventor, Ernesto Vita ("Vita" means "Life" in Italian). Life debuted in Formula One in 1990, looking to sell their unconventional W12 3.5-liter engine. The team had a terrible single season, failing to qualify for the grid in all 14 attempts during the 1990 season, regularly recording circuits several seconds slower than their nearest competitor.
Ligier F1 Team
The motorsport team Équipe Ligier is best known for its Formula One operation from 1976 to 1996. Former French rugby union player Guy Ligier established the club in 1968 as a sports car manufacturer.
Lola F1 Team
The MasterCard Lola Formula One Racing Team, commonly called MasterCard Lola or simply Lola, was a British Formula One team that competed in only one race during the 1997 Formula One World Championship. After failing to qualify in its debut at the 1997 Australian Grand Prix, it soon withdrew from the sport, where the cars were more than 11 seconds off the pace.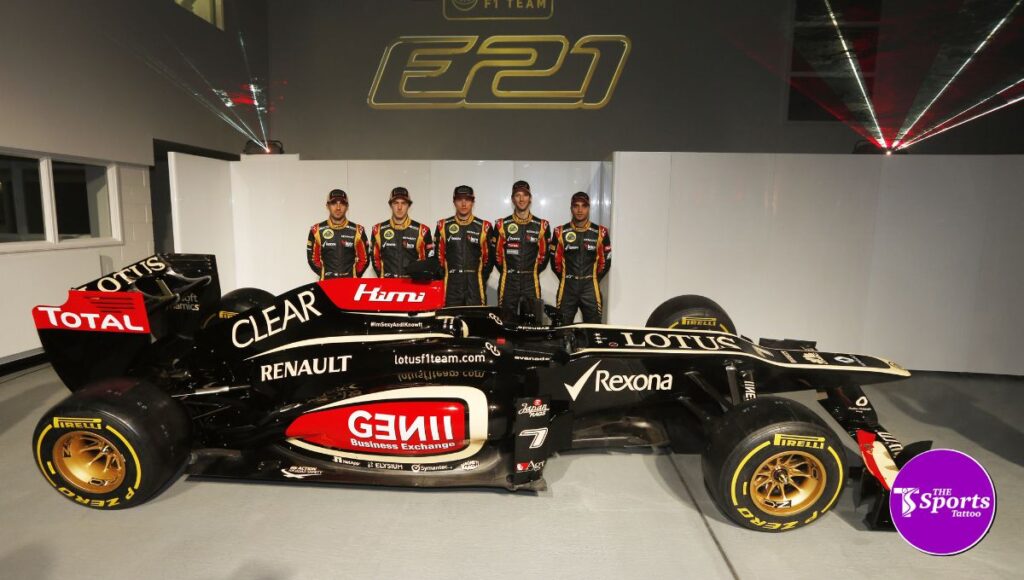 Lotus F1 Team
Lotus F1 Team was a Formula One team from the United Kingdom. The team competed as Lotus from 2012 to 2015, following the rebranding of the former Enstone, Oxfordshire-based Renault team. Genii Capital was the majority owner of the Lotus F1 Team. The Lotus F1 was named after its marketing collaborator, Group Lotus. In their first season competing under the Lotus title, the team won a race and finished fourth in the Formula One Constructors' World Championship. Renault repurchased the team on December 18, 2015. The Lotus F1 Team was officially rebranded as the Renault Sport Formula One Team on February 3, 2016, when Renault announced the team's new name.
Lyncar F1 Team
Lyncar was a Formula One team based in the United Kingdom. They only raced in two grands prix, the 1974 and 1975 British Grands Prix, and entered two cars. Martin Slater, the founder of Lyncar, had designed and raced his cars in minor formulae before working as a designer for Lola, Brabham, and March. Slater created the first in a series of vehicles for the British Formula Atlantic Championship in 1971, the Lyncar 005, with which McLaren engine builder and amateur racer John Nicholson won the 1973 and 1974 championships.
Maki F1 Team
Maki Engineering was a Japanese Formula One constructor. Kenji Mimura's small team's debut in the 1974 Formula One World Championship was Japan's first since Honda's withdrawal at the end of the 1968 season. They debuted at the 1974 British Grand Prix, with New Zealand Howden Ganley driving a single Maki F101 powered by the ubiquitous Cosworth DFV V8 engine. He failed to qualify and had severe leg injuries at the following German Grand Prix. The crew then moved to Japan to repair and upgrade the vehicle.
Manor F1 Team
Manor Grand Prix Racing Limited, also known as Manor Racing MRT or Pertamina Manor Racing MRT, was a British Formula One racing team and constructor headquartered in Banbury, Oxfordshire, United Kingdom. The team began competing in 2010 under the name "Virgin Racing"; the following year, Virgin adopted Marussia as a title sponsor, changing the team's name to "Marussia Virgin Racing" until it was renamed "Marussia F1 Team" in 2012.
The team was dissolved in November 2014, owing approximately £60 million, with former competitors McLaren and Ferrari among the creditors. On January 19, 2015, the administrators of Marussia announced that the auction of the company's vehicles and assets had been canceled to enable a potential buyout. The team emerged from the administration on February 19, 2015, and was renamed the "Manor Marussia F1 Team" following the agreement of a CVA and the acquisition of new funding. Stephen Fitzpatrick, owner, and CEO of OVO Energy, was subsequently revealed to have purchased the franchise. Throughout the 2015 season, the team retained "Marussia" as its constructor name and adopted a British license. The team changed its name to "Manor Racing" on January 19, 2016. The team's constructor name was MRT, which stands for Manor Racing Team.
March F1 Team
March Engineering was a British Formula One constructor and manufacturer of customer racing cars. Although March racing vehicles were only moderately effective in Grand Prix competition, they were much more successful in other categories, including Formula Two, Formula Three, IndyCar, and IMSA GTP sportscar racing.
Maserati F1 Team
Maserati has competed in various motorsports, including Formula One, sportscar racing, & touring car racing, both as a works team and through private entrants.
Matra F1 Team
Matra Sports, Equipe Matra Elf, and Equipe Matra Sports were the names of the Matra Company's racing team, which was formed in 1965 and based at Champagne-sur-Seine (1965-1967), Romorantin-Lanthenay (1967-1969), & Vélizy-Villacoublay (1969-1979). Peugeot purchased the team in 1979 and renamed it Automobiles Talbot.
MBM F1 Team
The MBM was a Formula One racing car from Switzerland. The car was created by Peter Monteverdi at his Binningen headquarters and was intended to participate in Grands Prix, yet this goal was never met. With the assistance of DKW engine expert Dieter Mantzel, Monteverdi developed his first single-seater racing car, a Formula Junior, in 1960. The vehicle was built with a 1.5-liter engine to comply with current Formula One regulations.
McGuire F1 Team
McGuire was an Australian Formula One racing car builder formed by Australian racer Brian McGuire. The team competed in one Formula One World Championship race but did not qualify. Brian McGuire debuted in the British-based Shellsport G8 International Series in 1976 as a private entry in a Formula One-spec Williams FW04. He also entered the vehicle at the 1976 British Grand Prix but was only classified as a reserve and never raced.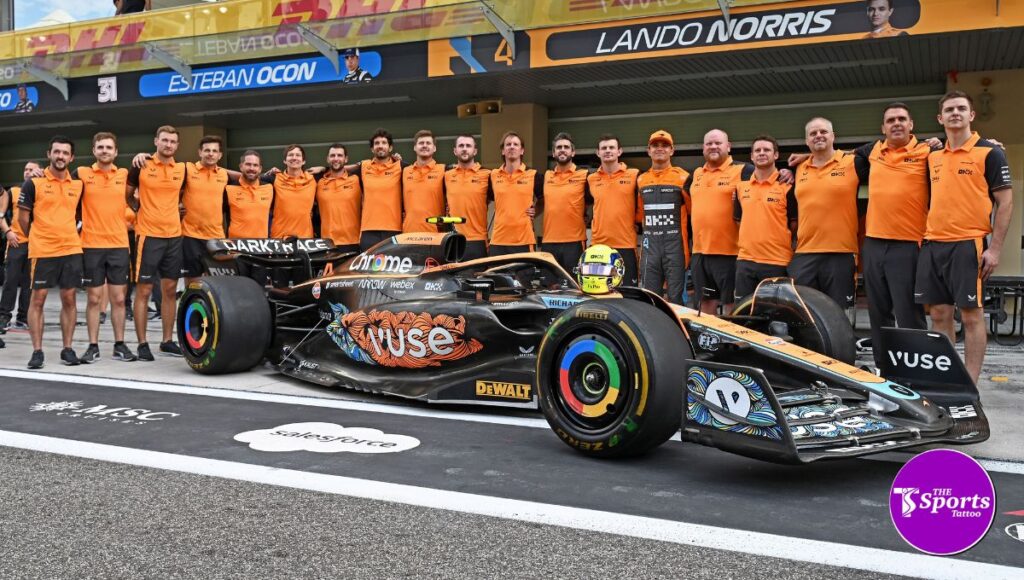 McLaren F1 Team
McLaren Racing Limited is a British motor racing team based at the McLaren Technology Center in Woking, Surrey, England. McLaren is best known as a Formula One constructor, having won 183 races, 12 Drivers' Championships, and eight Constructors' Championships following Ferrari. McLaren has also competed in American open-wheel racing as a competitor and chassis constructor, winning the Canadian-American Challenge Cup (Can-Am) sports car racing title. The team is a division of the McLaren Group, which controls most of the company.
Mercedes F1 Team
Since 1954, Mercedes-Benz, a part of the Mercedes-Benz Group, has been involved in Formula One as both a team owner and an engine manufacturer. The Mercedes-AMG Petronas F1 Team is now in Brackley, England, and operates under a German license. Ineos announced in December 2020 that it would share a one-third equal ownership position with the Mercedes-Benz Group and Toto Wolff; this took effect on January 25, 2022. The "Silver Arrows" is a name given to Mercedes-branded teams.
Merzario F1 Team
Merzario was an Italian Formula One and Formula Two team and constructor. The team participated in 38 Formula One World Championship Grands Prix but earned no championship points.
Meskowski F1 Team
Meskowski was a race car manufacturer. Meskowski cars raced in only one FIA World Championship event, the 1960 Indianapolis 500.
Midland F1 Team
Midland F1 Racing (also known as MF1 Racing or just "Midland") was a Formula One constructor and racing team participating in the 2006 Formula One season with Christijan Albers and Tiago Monteiro as drivers. After being purchased by Canadian billionaire and Midland Group owner Alex Shnaider, the team was renamed Jordan Grand Prix. The team was licensed as the 1st Russian Formula One team, reflecting Shnaider's history, although it remained in the UK at Jordan's Silverstone plant. The team was sold to Spyker Cars NV at the close of the 2006 season, and it competed in its final three Grands Prix under the official name Spyker MF1 Racing. The team competed as Spyker F1 in 2007 but was sold to Indian tycoon Vijay Mallya in 2008 and renamed Force India F1.
Milano F1 Team
Scuderia Milano was an Italian Formula One racing team created in Milan by Arialdo and Emilio Ruggeri, two brothers who had previously raced Maseratis. The team earned two World Championship points when Felice Bonetto finished fifth in the 1950 Swiss Grand Prix.
Minardi F1 Team
Giancarlo Minardi built Minardi, an Italian car racing team and constructor, in Faenza in 1979. It participated in the Formula One World Championship from 1985 through 2005, with limited success but a loyal following of fans. Minardi sold the team to Australian wealthy Paul Stoddart in 2001, who operated it for five years until selling it to Red Bull GmbH in 2005, who renamed it Scuderia Toro Rosso. Since 2001, all Minardi chassis have been known as "PS," followed by a number, the PS being the initials of team owner Paul Stoddart.
Nichels F1 Team
Nichels Engineering was a racing car constructor and team owner from the United States. Ray Nichels, the crew chief and mechanic, was in control.
Olson F1 Team
Olson was a race car builder. The 1950 Indianapolis 500 was the only round of the FIA World Championship in which Olson cars raced.
Onyx F1 Team
Onyx Grand Prix was a British Formula One constructor who raced in the 1989 and 1990 Formula One seasons. The team participated in 26 World Championship Grand Prix (25 starts) and earned six World Constructors' Championship points. Stefan Johansson finished third in the 1989 Portuguese Grand Prix, the team's highest performance.
Osca F1 Team
O.S.C.A. (Officine Specializzate Costruzione Automobili—Fratelli Maserati S.p.A.) was an Italian racing and sports car company founded in 1947 by the Maserati brothers in San Lazzaro di Savena, Bologna, and closed in 1967. O.S.C.A. or Osca is the most common form of corporate name.
Osella F1 Team
Osella is a former Formula One team and an Italian racing car constructor. Between 1980 and 1990, they competed in 132 Grand Prix. They finished with two points and five world championship points.
Pacific F1 Team
Pacific Racing (later known as Pacific Grand Prix and lastly as Pacific Team Lotus) was a British motor racing team. Following success in lower categories, the team competed in two complete Formula One seasons, 1994 and 1995, entering 33 Grands Prix without success.
Pankratz F1 Team
Pankratz was a race car builder. Pankratz cars raced in two FIA World Championship events, the 1954 and 1955 Indianapolis 500.
Parnelli F1 Team
Vel's Parnelli Jones Racing, sometimes known as Parnelli or VPJ, was a motor racing constructor & team based in the United States. Former USAC racer Parnelli Jones & his business partner Velko "Vel" Miletich founded the team in 1969. Parnelli was initially interested in USAC racing, where they had rapid success; their driver Al Unser won the Indianapolis 500 race in 1970, driving a VPJ Colt, after dominating 190 of the 200 racing laps. Unser went on to win the USAC championship. Unser won the Indy 500 again in 1971, this time without the left-side chassis offset considered illegal by 1971 rules. He finished fourth in the USAC drivers rankings, while teammate Joe Leonard won the championship.
Penske F1 Team
Team Penske (previously Penske Racing) is a professional auto racing company based in the United States that competes in the IndyCar Series, NASCAR Cup Series, IMSA SportsCar Championship, and FIA World Endurance Championship. Since its inception in the 1966 24 Hours of Daytona, the company has also participated in Formula One, Can-Am, Trans Am, and Australia's Supercars Championship. Team Penske has over 500 victories and over 40 titles in car racing. Roger Penske owns and chairs Team Penske, a part of Penske Corporation. Tim Cindric is the team's president.
Phillips F1 Team
Phillips was an American race car builder. Phillips vehicles raced in seven FIA World Championship events, including the 1954 Indianapolis 500.
Prost F1 Team
Prost Grand Prix was a Formula One racing team owned & managed by Alain Prost, a four-time Formula One world champion. From 1997 through 2001, the team played five seasons.
Protos F1 Team
The Protos was a wingless Formula 2 racing car that debuted in 1967. Powered by the then-standard Ford-Cosworth 1600cc FVA engine, it was famous for its highly aerodynamic Frank Costin design, with an almost-enclosed 'bubble' canopy over the cockpit & a chassis composed in part of the lightweight but vulnerable plywood. During the European F2 season, despite being reasonably swift on fast circuits, it did not become a front-runner or win any races. Among the drivers were Brian Hart and Pedro Rodrguez.
Rebaque F1 Team
Team Rebaque was a Mexican Formula One constructor and competitor headquartered in Leamington Spa, United Kingdom. They competed in thirty Grands Prix, using cars purchased from Team Lotus before constructing their vehicle. The Rebaque HR100 was entered in the team's last three races before separating. The team qualified for 19 races and earned one point in the World Constructors Championship with a sixth-place finish at the 1978 German Grand Prix.
Red Bull F1 Team
Red Bull Racing, currently competing as Oracle Red Bull Racing & also referred to as Red Bull or RBR, is a Formula One racing team based in the United Kingdom and racing under an Austrian license. It is one of the two Formula One teams owned by Red Bull GmbH and Scuderia AlphaTauri. Christian Horner has managed the Red Bull Racing team since its inception in 2005.
Red Bull utilized Cosworth and Ferrari engines in 2005 and 2006, respectively. The team used Renault engines between 2007 & 2018 (from 2016 to 2018, the Renault engine was rebadged "TAG Heuer" due to the 2015 split of Red Bull's relationship with Renault). During this partnership, from 2010 to 2013, they won four consecutive Drivers' and Constructors' Championship titles, becoming the first Austrian team to do so. In 2019, the group began using Honda engines. The Works Honda partnership culminated in 2021 after Red Bull driver Max Verstappen won the World Drivers' Championship; Verstappen also won the title in 2022. Honda left the sport officially after 2021 but will continue to supply complete engines from Japan to the team until the end of 2025 under the Red Bull Powertrains brand.
Renault F1 Team
Since 1977, Renault, a French car manufacturer, has been involved with Formula One as both a team owner and engine manufacturer. In 1977, the company entered Formula One as a constructor and, with its EF1 engine, introduced the turbo engine to the series. In 1983, Renault began supplying other teams with engines. Despite winning races, the Renault team withdrew at the end of 1985. Renault engines lasted in competition until 1986.
In 1989, Renault returned to Formula One as a manufacturer of engines. It won five drivers' and six constructors' championships from 1992 to 1997 with Williams and Benetton before ceasing its works involvement after 1997. However, their engines continued to be used without works sponsorship until 2000.
Rial F1 Team
Rial, a German manufacturer of light alloy wheels and rims, competed in Formula One during the 1988 and 1989 seasons. The company, founded in the 1970s as a wheel rim manufacturer, was acquired by Günter Schmid, previously the owner of ATS wheels, in 1987. Schmid employed the same strategy at ATS, entering Formula One as a constructor to promote the Rial Wheel brand. Rial competed in 32 Grands Prix with a total of 48 vehicles. In 1988 they scored six championship points and finished ninth in the constructor's championship. After leaving Formula One after the 1989 season, the Rial Racing division was discontinued, and the company never raced again. Rial continues to produce wheels and rims at its Fußgonheim factory.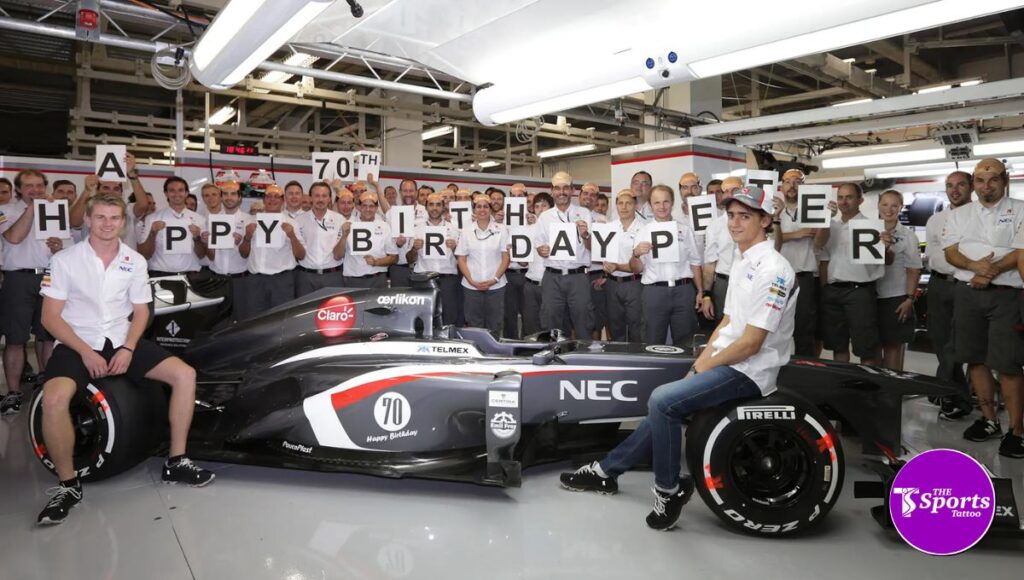 Sauber F1 Team
Sauber Motorsport AG is a motorsport manufacturing corporation based in Switzerland. Peter Sauber founded the company in 1970 (as PP Sauber AG) and advanced through hillclimbing and the World Sportscar Championship to Formula One in 1993. After operating it under its own identity from 1993 to 2018, Sauber Motorsport AG changed the name of its Formula One racing team to Alfa Romeo Racing.
The team competed as BMW Sauber from 2006 to 2009, finishing second in the Constructors' Championship in 2007, third in 2008, and winning the 2008 Canadian Grand Prix. BMW withdrew from Formula One after a less successful 2009 season, leaving the team's future uncertain for several months until Peter Sauber recovered complete control and was granted a 2010 entry. Due to complications with the Concorde Agreement, the team's name for the 2010 season remained "BMW Sauber" Peter Sauber announced in March 2010 that he was going to change the team's name, but the FIA informed him that he would have to wait until the end of the season. At the start of the 2011 season, BMW had been removed from the team's name.
Scarab F1 Team
Scarab was an American sports car and open-wheel race car manufacturer with vehicles designed and constructed by Tom Barnes and Dick Troutman for Reventlow Automobiles Inc, owned by Lance Reventlow. Traco Engineering (Jim Travers and Frank Coon, known as "The Whiz Kids") constructed the Chevrolet 283 CI V-8 engines.
Schroeder F1 Team
Schroeder was an American racing car manufacturer. Schroeder car participated in four FIA World Championship races, including the Indianapolis 500 in 1951, 1953, 1954, and 1955.
Scirocco F1 Team
Scirocco was a British Formula One car manufacturer. In addition to numerous non-championship Grands Prix, they entered a total of nine cars in seven Grands Prix of the World Championship. Scirocco additionally provided chassis for private competitors.
Scuderia Ambrosiana F1 Team
Scuderia Ambrosiana was an Italian motor racing team that competed in Grand Prix and Formula One World Championship competitions. The team was founded by drivers Giovanni Lurani, Luigi Villoresi, Franco Cortese, and Eugenio Minetti in 1937 and was named after Saint Ambrose, the patron saint of Milan. The team's cars were painted in the blue and black colors of F.C. Internazionale Milano, which was known as Ambrosiana Inter at the time.
Shadow Racing Cars
Shadow Racing Cars was a Formula One sports car racing team founded and initially located in the United States, but afterward moved its Formula One operation to Northampton, England. The team held an American license from 1973 to 1975 and a British permit from 1976 to 1980, making it the first constructor to shift its nationality officially. They achieved their sole F1 victory as a British team at the 1977 Austrian Grand Prix.
Shannon F1 Team
Shannon Racing, also known as the Shannon Racing team, was a short-lived Formula One team affiliated with the Forti team during the 1996 season. The FinFirst parent company owned it. Both organizations were established in the Republic of Ireland but were supported by Italian investors.
Simca F1 Team
Matra Sports, Equipe Matra Elf, & Equipe Matra Sports (after a takeover by Simca in 1969 as Matra-Simca Division Automobile) were the names of the Matra Company's racing team, which was formed in 1965 and based at Champagne-sur-Seine (1965-1967), Romorantin-Lanthenay (1967-1969), and Vélizy-Villacoublay (1969-1979). Peugeot purchased the team in 1979 and renamed it Automobiles Talbot.
Simtek F1 Team
Simtek (Simulation Technology) was a Formula One racing team and engineering consulting organization. Simtek Research, the Formula One (F1) engineering consultancy department, was created in 1989 by Max Mosley and Nick Wirth. It was previously involved in several aspects of Formula One, including wind tunnel construction and third-party chassis production. Simtek Grand Prix, the racing team, was founded in 1993 and raced in the 1994 and 1995 seasons, finishing ninth overall. Simtek went into voluntary failure in June 1995 due to massive debts and a lack of sponsorship funds.
Spirit F1 Team
Spirit Racing was a British racing car manufacturer and racing team. Founded in 1981, it competed in the 1982 European Formula Two Championship, then switched to Formula One in 1983 (lasting until the conclusion of the 1985 season) before collapsing at the end of that year. Its highest finish in 26 F1 races (including the non-championship 1983 Race of Champions) was eighth in the 1983 Dutch Grand Prix.
Spyker F1 Team
The Spyker F1 Team, also known as the Etihad Aldar Spyker F1 Team for sponsorship reasons, was a Formula One team that participated under a Dutch license in the 2007 Formula One World Championship. Spyker Cars founded it after purchasing the short-lived Midland F1 (previously Jordan Grand Prix) team. The transfer to the Spyker nickname was accompanied by a change in racing livery from Midland's previous red, grey, and white design to an orange & silver scheme—already seen on the Spyker Spyder GT2-R—orange being the national color and auto racing color of the Netherlands. The team was sold & renamed Force India after the end of the 2007 season.
Stebro F1 Team
Stebro was a Canadian Formula Junior racing car builder. The team also raced in one Formula One race, the 1963 United States Grand Prix, finishing ninth with their single vehicle.
Stewart F1 Team
Stewart Grand Prix was a Formula One constructor and racing team created in 1996 by Jackie Stewart and his son Paul Stewart. From 1997 to 1999, the team participated in Formula One as a Ford works-supported team. The 1999 season was by far the most successful, with one victory (Johnny Herbert at the European Grand Prix) & one pole position (Rubens Barrichello at the French Grand Prix) en route to fourth place in the Constructors Championship. Ford purchased the team at the end of 1999 and rebranded it Jaguar Racing. Jaguar Racing was sold to the energy drink firm Red Bull GmbH in 2004 and renamed Red Bull Racing in 2005.
Super Aguri F1 Team
The Super Aguri F1 Formula One team competed between 2006 and 2008. The team, founded by former F1 driver Aguri Suzuki, operated from the former Arrows factory at the Leafield Technical Centre in Oxfordshire, England. The vehicles were known as Super Aguri Hondas, and the team functioned in part as an unofficial Honda 'B' team. After two years and four months of participation in the championship, the team withdrew from F1 after four races in 2008 due to financial difficulties. In the 2007 season, Takuma Sato scored all four of the team's points.
Surtees F1 Team
Surtees Racing Organisation was a motorsport team that competed as a constructor in Formula One, Formula 2, & Formula 5000 from 1970 to 1978.
Team Lotus F1 Team
Team Lotus was the motorsport sister company of Lotus Cars, an English sports car manufacturer. The team competed in various race cars, including Formula One, Formula Two, Formula Ford, Formula Junior, IndyCar, & sports car racing. Team Lotus remained one of the most successful racing teams ever more than ten years after its final race, winning seven Formula One Constructors' championships, six Drivers' Championships, & the Indianapolis 500 in the United States between 1962 and 1978. Lotus was responsible for a few revolutionary and experimental advancements in crucial motorsport, both technically and commercially, under the supervision of founder and principal designer Colin Chapman. Lotus Racing, led by Tony Fernandes, returned to Formula One in 2010. The famous black-and-gold livery of Team Lotus returned to F1 in 2011 as the design of the Lotus Renault GP team, sponsored by Lotus Cars, and the team was re-branded as Lotus F1 Team in 2012.
Tecno F1 Team
Tecno is a Bologna-based Italian kart and former racing car manufacturer. It won the European Formula Two Championship in 1970 and became a Formula One constructor, competing in 10 races and earning one championship point.
Theodore F1 Team
Teddy Yip, a real estate developer and entrepreneur, formed Theodore Racing, a Formula One constructor based in Hong Kong. They competed in 51 races, entering a total of 64 cars. In modern times, Teddy Yip Jr. owns Theodore Racing, an international motor racing team that competes in the Macau Grand Prix. Following its last race in 1992, Teddy Yip Jr., owner of the GP3 team Status Grand Prix, led the team to successfully return to racing in the Macau Grand Prix in 2013. Theodore Racing recorded eight Macau Grand Prix victories, two as an independent team with Vern Schuppan & Geoff Lees & six as a technical support team with Alex Lynn and Felix Rosenqvist.
Token F1 Team
Token Racing was a British Formula One team and constructor that competed in four Grand Prix during the 1974 Formula One season.
Toleman F1 Team
Toleman Motorsport was a Formula One team located in the United Kingdom. It was active from 1981 to 1985 and competed in 70 Grands Prix.
Toro Rosso F1 Team
Scuderia Toro Rosso (literally "Red Bull Racing Team"), sometimes known simply as Toro Rosso or by the code name STR, was an Italian Formula One racing team. Red Bull Racing was one of two Formula One teams owned by the Austrian beverage manufacturer Red Bull. Toro Rosso served as Red Bull Racing's junior team to train talented drivers for the senior team. The group debuted in racing in 2006 and achieved total independence from its sister team in 2010. In 2020, the team's name was changed to Scuderia AlphaTauri to promote parent business Red Bull's fashion label of the same name.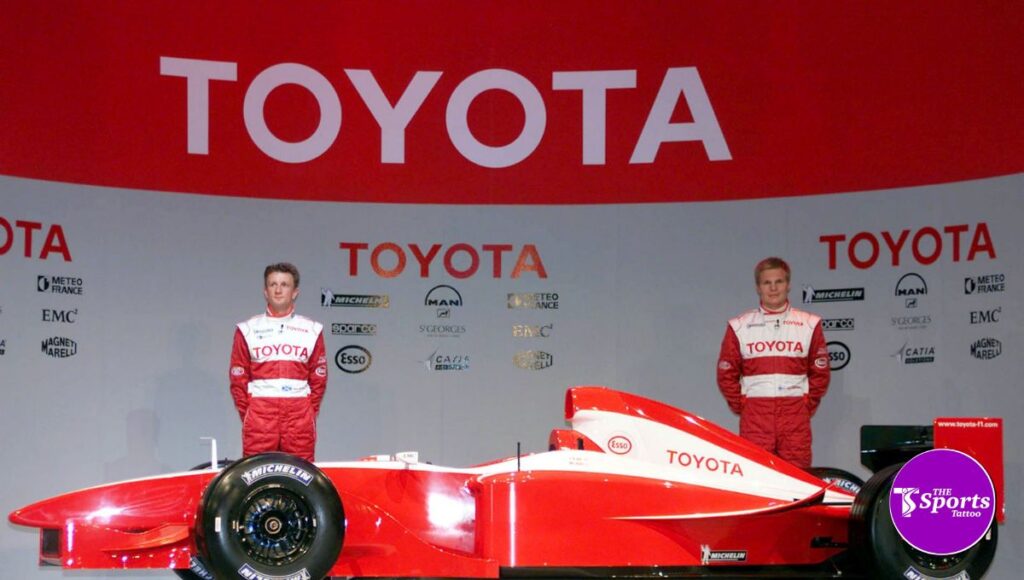 Toyota F1 Team
Panasonic Toyota Racing was a Formula One team headquartered in Cologne, Germany, owned by the Japanese car manufacturer Toyota Motor Corporation. Toyota stated its intention to enter Formula One in 1999, and after extensive testing with its first vehicle, the TF101, the team made its debut in 2002. The new team evolved from Toyota Motorsport GmbH, which had previously participated in the World Rally Championship and the 24 Hours of Le Mans. Despite scoring a point in their debut race, Toyota never won a Grand Prix. Their highest result was second, which they achieved five times.
Toyota received criticism for its lack of success, as it failed to win a Grand Prix despite having one of the sport's most incredible budgets and being the world's largest car manufacturer. Toyota had a well-funded team, but long-term achievement had never been achieved. Toyota immediately resigned from Formula One on November 4, 2009, terminating the team's presence in the competition after eight straight seasons.
Trojan F1 Team
Trojan was a car manufacturer and Formula One constructor from the United Kingdom, working with Australian Ron Tauranac.
Turner F1 Team
Turner Motorsport (also known as TMS Racing or Turner Racing) is a professional sports car racing team based in Newton, NH. It is the world's second most prolific BMW privateer racing team, trailing only Schnitzer Motorsport, which stopped racing in 2020. Turner Motorsport has competed in approximately 470 competitive sport car events as of 2023. Turner Motorsport has raced BMW cars primarily in the IMSA since 1998, including the BMW 3 Series, BMW M3 coupes, & the M6, and will begin racing the M4GT3 in 2022. The team was formerly very successful in the Speed World Challenge Touring Car series.
Tyrrell F1 Team
Ken Tyrrell (1924-2001) formed the Tyrrell Racing Organisation, an auto racing team & Formula One constructor that began competing in 1958 and started manufacturing its cars in 1970. The group achieved its most tremendous success with Jackie Stewart in the early 1970s, winning three Drivers' Championships and one Constructors' Championship. The team never reached such heights again, but it continued to win races throughout the 1970s and early 1980s, including the final victory for the Ford Cosworth DFV engine at Detroit in 1983. British American Tobacco purchased the club in 1997, and it played its last season as Tyrrell in 1998. Tyrrell's history lives on in Formula One through the Mercedes-AMG F1 team, which is Tyrrell's descendant via multiple sales and rebrandings via BAR, Honda, and Brawn GP.
Vanwall F1 Team
Vanwall was a Formula One racing team and car manufacturer active in the 1950s. The Vanwall name was formed by merging Tony Vandervell's name with that of his Thinwall bearings made at the Vandervell Products business in Acton, London. Initially competing in non-championship races with modified Ferraris, Vanwall built their first cars for the 1954 Formula One season. The team's first race win came in the 1957 British Grand Prix, when Stirling Moss and Tony Brooks shared a VW 5, earning the team the distinction of building the first British-built car to win a World Championship race. Vanwall won the inaugural Formula One Constructors' Championship in 1958, allowing Moss and Brooks to finish second & third in the Drivers' Championship standings, winning three races each. Due to Vandervell's worsening health, 1958 was the squad's final entire season; the team raced cars in many races in the following years until retiring in 1961.
Veritas F1 Team
Veritas was a West German sports and race vehicle business founded after World War II in Hausen am Andelsbach, near Sigmaringen, Baden-Württemberg. It was then moved to Meßkirch, Muggensturm, and the Nürburgring. Ernst Loof, Georg Meier, and Lorenz Dietrich formed the firm, which first rebuilt and adjusted pre-war BMW 328 cars using customer-supplied components, transforming them into BMW-Veritas vehicles. Karl Kling utilized the first car to win at Hockenheim in 1947 and became the German 2-liter champion that year. Following a protest from BMW, the cars were known as Veritas after just a few were produced.
Virgin Racing F1 Team
Virgin Racing (after Marussia Virgin Racing) was a Formula One racing team that participated in 2010 with a British license and in 2011 with a Russian license. It was managed by Manor Motorsport, Wirth Research, and Richard Branson's Virgin Group. For the two years the team competed, it scored no points & finished last in the Constructor's Championship.
Wetteroth F1 Team
Wetteroth was a race car manufacturer. Wetteroth cars raced in only one FIA World Championship event, the 1950 Indianapolis 500.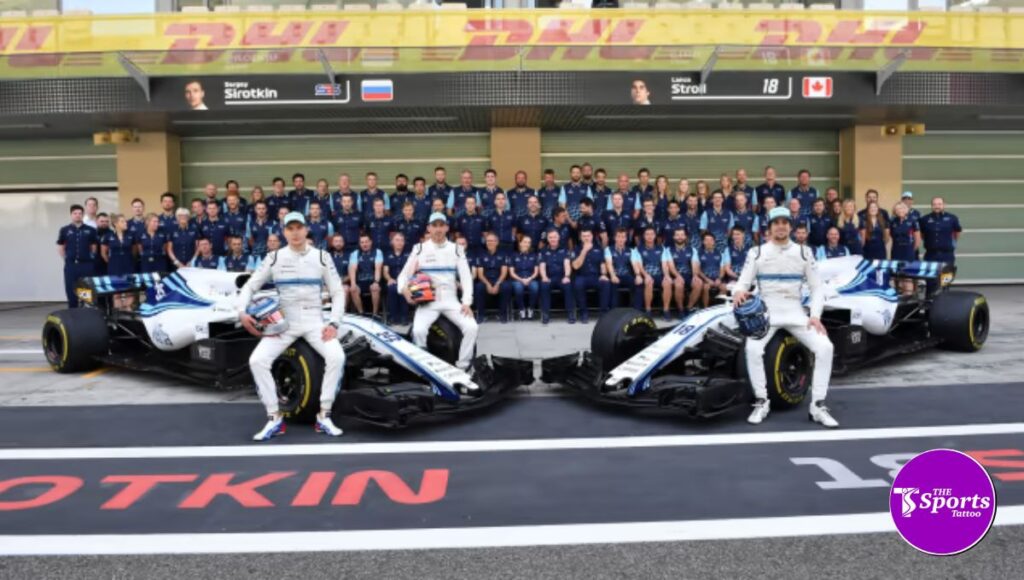 Williams F1 Team
Williams Grand Prix Engineering Limited, better known as Williams Racing in Formula One, is a British Formula One team and constructor. Frank Williams and Patrick Head established it. After Frank Williams' last disastrous F1 venture, Frank Williams Racing Cars (which eventually became Wolf-Williams Racing in 1976), the team was created in 1977.
Wolf F1 Team
From 1977 through 1979, Walter Wolf Racing was a Formula One constructor that won the first race it competed. Walter Wolf, a Canadian, owned and operated it. The team was based in Reading, England, but raced under a Canadian license.
Zakspeed F1 Team
Zakspeed is a German motor racing team formed in 1968 by Erich Zakowski and now operated by his son Peter Zakowski. Its headquarters are in Niederzissen, Rhineland-Palatinate, around 25 kilometers (16 miles) from the Nürburgring circuit.