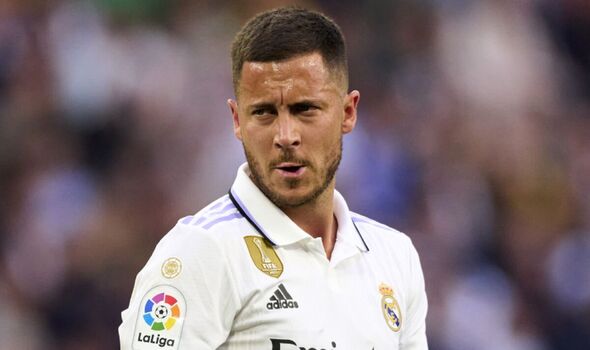 Real Madrid Transfer News: Spanish media source Fichajes claims that Real Madrid will no longer be able to keep Eden Hazard. The current La Liga winners are willing to release the underperforming outcast. Even so, the 32-year-old striker is expected to leave the Santiago Bernabeu this summer.
Since joining Real Madrid, Eden Hazard has suffered one of the most tragic falls from grace in soccer history. The transfer to Real Madrid was like a "dream come true" for the Belgian winger. However, his time with Los Blancos has been a misery due to injuries and bad play.
The 32-year-old has never quite fit in at Real Madrid, and despite almost four full seasons there, he has made less than 100 appearances. His total stats of seven goals and twelve assists in seventy-five games are not very impressive. During his time at Real Madrid, Hazard saw his market worth drop from €150 million to €5 million.
The veteran forward has only started three of Real Madrid's 49 games this season. His future at Real Madrid is already bleak since Carlo Ancelotti is content to never play him. Therefore, leaving in the summer is the optimal time for everyone concerned.
However, there has been little interest in the 32-year-old, and just a few teams have been ready to take a risk on him. However, fresh rumours have connected the Real Madrid outcast to Burnley, where Vincent Kompany is reportedly hoping to reunite this summer. There has been interest from Turkish clubs in the struggling attacker as well.
Real Madrid Transfer News: In the next summer transfer window, Real Madrid will be hoping that Eden Hazard, 32 years old, will leave the Santiago Bernabeu since he doesn't fit there
The report also suggests that the current La Liga winners are willing to let the player go. The position makes perfect sense since the veteran Belgian attacker offers almost nothing to the Bernabeu. However, whether or not Hazard is prepared to leave Real Madrid during the summer transfer window is still up in the air.
Hazard's mindset and drive have suffered as a result of his lack of game time. Therefore, the 32-year-old oddball at Real Madrid should leave the Santiago Bernabeu. It remains to be seen whether his nightmare of a season ends during the summer transfer window.
In other news Alphonso Davies Transfer News: Is he moving to Real Madrid?