Sachin Tendulkar Age | Sachin Tendulkar Wife | Sachin Tendulkar Height | Sachin Tendulkar Daughter
Sachin Tendulkar Biography:- SACHIN RAMESH TENDULKAR, born April 24, 1973, in Bombay, Maharashtra, is a former Indian international cricketer and is witnessed as one of the world's best batsmen to date. He represented Bombay(Mumbai) in domestic cricket and India in international cricket. Sachin was appreciably a right-hand batsman and a bowler who can bowl both leg and off-breaks. He was known for his extreme batting skills and is the only player to cross 30,000 runs in International cricket. He is the only player to score one hundred international centuries.
| | |
| --- | --- |
| Full name | Sachin Ramesh Tendulkar |
| Age | 48 years (as per 2021) |
| Birth place | Bombay, Maharashtra |
| Date of Birth | April 24, 1973 |
| Height | 1.65 m |
| Nickname | Little Master/Master Blaster |
| Parent | Rajni Tendulkar (mother), Ramesh Tendulkar (father) |
| Spouse | Anjali Tendulkar |
| Kids | Arjun Tendulkar (son), Sara Tendulkar (daughter) |
| Sport | Cricket |
Let's dive deep into Sachin's life and talk about Sachin Tendulkar Biography.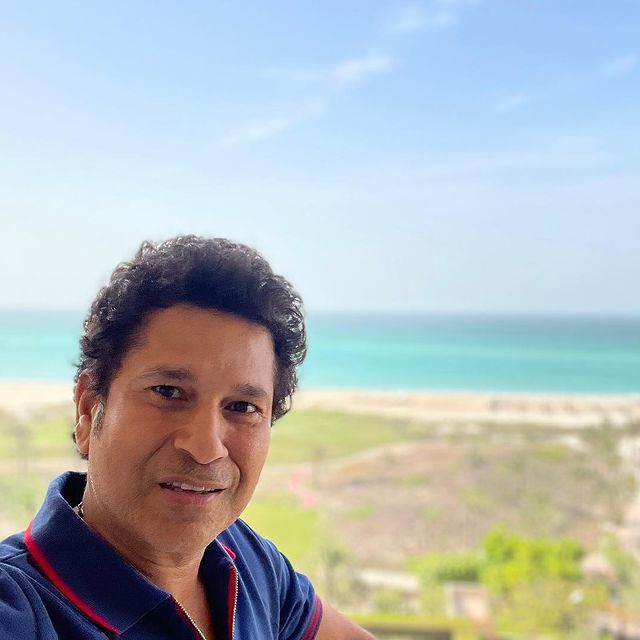 Sachin Tendulkar's Early Life
Tendulkar was born in Dadar, Bombay, at Nirmal Nursing Home in a Maharashtrian family. His father named Tendulkar after his favorite music director, Sachin Dev Buran, and he was trained under Ramakant Achrekar (reputed club cricketer at Shivajipark) during his school days.
He studied at the Indian Education Society's New English School in Bandra but on the advice of his coach, he shifted to Sharadashram Vidyamandir High school in Dadar, which was dominant for the cricket sport. A step from school cricket, he also played club cricket and later played for India's Club Cricket.
Later he trained in Chennai at the MRF Pace Foundation as a fast bowler, but on the advice of Dennis Lillee (he has taken 335 wickets in his Test career, which is a world record), he left fast bowling to concentrate on his batting abilities. After the recommendation of Dennis Lilee, he intensified his hard work on batting skills rather than fast bowling.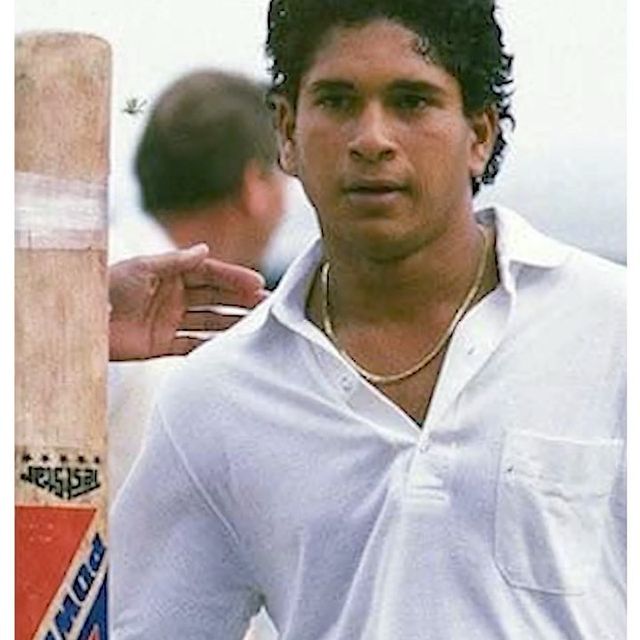 Sachin Tendulkar's Family
He was born to Ramesh Tendulkar (Father), a well known Marathi novelist, and Rajni Tendulkar (Mother), who worked in the insurance industry.
Sachin is the youngest of all four siblings.
He has two elder stepbrothers and one elder stepsister named Ajit, Nitin, and Savita, born from his father's first wife.
His father's first wife died after the birth of his third child. After her death, Ramesh Tendulkar married Rajni Tendulkar (Sachin's mother).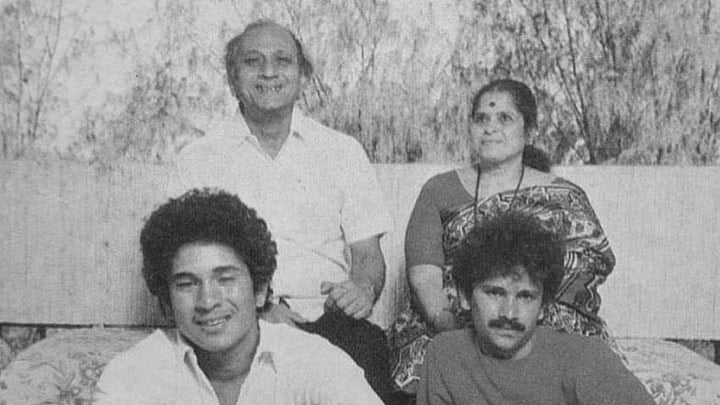 Sachin Tendulkar Biography: CAREER
At the age of 16, Tendulkar made his first test debut against Pakistan, where he scored 215 runs at an average of 35.8.
He became the youngest player to debut for India at the age of 16.
The series of Pakistan was followed by New Zealand, where he had an average of 29.25 for 117 runs.
In the 1991-1992 tour of Australia, he scored two centuries and became the youngest player to score a century against Australia.
At the age of 23, in 1996, Sachin was made the captain of the Indian cricket team.
Tendulkar was the 1996 World Cup's top run-scorer with 523 runs, albeit India was conquered.
He eclipsed Sunil Gavaskar and scored his 35th test century against Sri Lanka, which was accomplished after playing 123 tests.
Tendulkar was named man of the tournament in the 2003 World Cup, where he scored 673 runs in 11 matches when India was crushed at the finals by Australia.
Tendulkar faced his downfall during the 2007 World Cup and was much criticized for it.
He became the first player to score 15000 runs in ODI in the second match of the Future Cup against South Africa.
He made his last debut test debut in 2013.
He made his last ODI debut in 2012
He made his last T20 debut in 2006. It was his first and lastT20 match ever played.
On December 20, 2012, Tendulkar announced his retirement from ODI.
After the series of West Indies in 2013, Tendulkar took retirement from all forms of cricket.
In 2020, Tendulkar became ambassador for PayTM First Games, a service that enables Indians to bet on cricket online, Cricket New
Sachin Tendulkar's Wife and Kids
Sachin married on May 24, 1995, Anjali Mehta after dating her for five long years.
He saw Anjali at the Mumbai international airport for the first time after returning from his debut tour.
It was love at first sight for him, but in the nick of time, he got to meet her with the help of a familiar friend, after which the duo started dating each other.
Now the couple is blessed with a daughter Sara Tendulkar and Arjun Tendulkar.
Their son, Arjun Tendulkar, draws everyone's attention towards his bowling skills and plays for the U-19 Indian Cricket Team.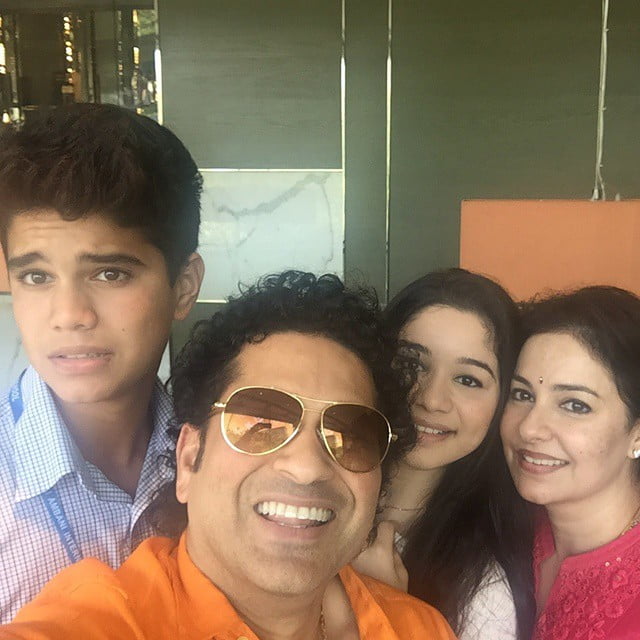 Sachin Tendulkar Biography: CONTROVERSIES
During the India tour of South Africa, he was accused of on-field ball-tampering by Mike Denness, because of which he was suspended for a test and was fined 75% of his match fee.
He came under conflict when Michael Schumacher gifted him Ferra Modena 360, and the Government tried to liberate him from paying an import tax fee of 120%. He was given more hate when he sold his gifted Ferrari to a businessman of Surat.
He was disappointed on Dravid when he declared the inning while Sachin was on the verge of scoring a double-hundred. Later, Dravid was accused and was questioned for doing so.
He was accused of changing his statement in 2008 for the MONKEYGATE Scandal.
He got much hate when he tweeted from the Government's side during the farmer's bill protest on Social Media.
Sachin Tendulkar Biography: AWARDS AND ACHIEVEMENTS
Arjuna Award – 1994.
Rajiv Gandhi Khel Ratna Award – 1998.
Padma Shri – 1999.
Maharashtra Bhushan – 2001.
PadmaVibhushan – 2008.
Bharat Ratna – 2014.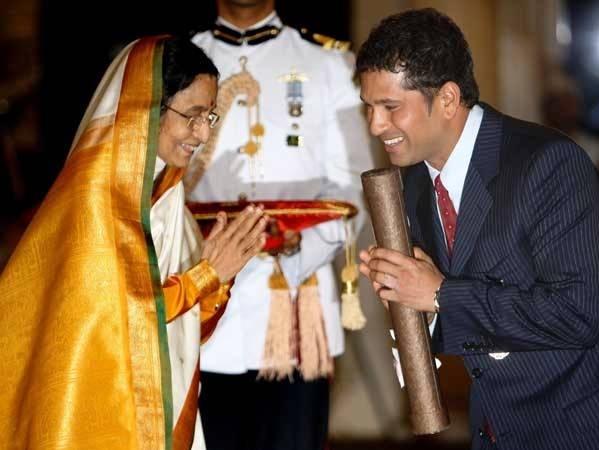 Sachin Tendulkar Biography: RECORDS
Most numbers of Test runs –15,921.
Most numbers of ODI runs – 18,426.
Most numbers of Tests played – 200.
Most numbers of ODIs played – 463.
Most centuries in World Cups.
Most Man of the Match titles – 76.
Most Man of the Series titles – 20.
Most runs in World Cups – 2,278.
Most half centuries ODI – 96.
Most test centuries – 51.
On 23rd Aug 2023 Sachin Tendulkar appointed as the National Icon of Election Commission of India.
Sachin Tendulkar Biography: SOCIAL MEDIA
Just a few people who love to play…a lot!? pic.twitter.com/SHlaHYie26

— Sachin Tendulkar (@sachin_rt) October 28, 2021